[caption id="attachment_2641" align="alignright" width="263" caption="Surrounded by the Local 888 Executive Board, President Mark DelloRusso announces Dues Equality vote results at the end of the Convention."]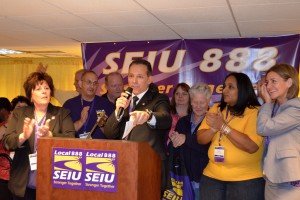 [/caption]
The Dues Equality plan will yield more resources to win better contracts and recommits the union to healthcare reform and organizing
Over 200 SEIU Local 888 members and guests gathered for their bi-annual membership convention to listen to inspirational speakers, vote on a proposed new dues structure and consider other union business.
The meeting was held on Saturday, October 13 at the SEIU 1199 union hall in Dorchester, Mass.  SEIU Vice President Tom Woodruff was the keynote speaker.
President Mark DelloRusso and Secretary-Treasurer Brenda Rodrigues made a presentation on the proposed Dues Equality plan that would put all members on the same 1.6 percent dues structure.  It was debated and discussed on the floor of the convention for more than an hour.
The resolution for Dues Equality passed with 139 Yes, 35 No, 2 Blank, a 3.5 to 1 margin in a secret ballot vote after a three hour voting period.  The new dues structure will be phased in beginning in 2013.
"The convention was a testament to the members of Local 888," said DelloRusso.  "Their response to the Dues Equality proposal and the commitment to building our union was truly an inspiration for us all.  Now we must build on the momentum from the convention to move forward by winning better contracts and providing stronger representation."
Members also passed a resolution urging resistance to employer efforts to shift insurance costs to workers and strongly supporting reforms that build on the national Medicare program as a model to contain health care costs and the best way to achieve a single high standard of health care for everyone in America.
A third resolution – that passed unanimously -- supported uniting more workers in Local 888 to win good jobs and a stronger voice to improve public services by identifying new opportunities resulting from the restructuring of government and public services to unite more workers in the private sector.
A resolution on a Financial Transaction Tax (FTT) failed to win support from the Local 888 executive board, but nevertheless was adopted by the membership after a presentation by a member on the floor of the convention.  The FTT would place a half a percent federal tax on financial transactions, yielding as much as $350 billion a year in new revenues for much needed services and other social benefits.
Copies of the four resolutions adopted at the convention will be posted on the Local 888 website at www.seiu888.org.  Pictures from the convention are at: //www.flickr.com/photos/46067326@N00/sets/72157631772028045
The convention was the largest since Local 888 was chartered in 2003.
Resolutions In PDF format for Downloading:
1. Resolution on Dues Equality
2. Resolution on Uniting More Workers in Local 888
3. Resolution on Leading the way to Win Comprehensive Healthcare Reform
4. Resolution in Support of a Financial Transaction Tax
# # #