[caption id="attachment_3482" align="alignright" width="300"]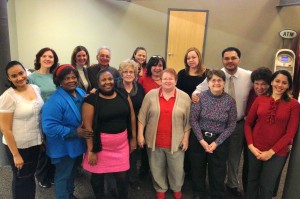 Local 888 members at the Valley Works Career Center in Lawrence. After going four years without a raise, the group
decided it was time for some tactics that went beyond the bargaining table.[/caption]
Sometimes winning a new contract takes a lot more than just negotiating with management.
Local 888 members at the Valley Works Career Center in Lawrence were frustrated after two tentative agreements were turned down by the Mayor and the City's Financial Overseer, appointed by the Governor.  Meanwhile other city employees began getting raises.
"We went four years without a raise," said Mariah Germosen, a Career Service Advisor.  "When that many years go by, you don't feel appreciated or valued.  You're not keeping up with the cost of living."
"We needed to step up the pressure and start making some noise," said Cardel Bennett who also works as a Career Service Advisor.
"That's why a group from the negotiating committee and Local 888 Field Service Director Jen Springer went to the Executive Office of Labor and Workforce Development.  "A good part of our funding is from the state.  We told Secretary Joanne Goldstein's office and the Governor's office just how frustrated we were and that something had to be done," said Springer.
"After that meeting the ball got rolling with the city!" said Marco Ruiz who in addition to being a Career Service Advisor is also the union steward at Valley Works.  "This was a tough battle and I'm happy with the outcome."
Members won some significant improvements over the previous tentative agreement.  Instead of a 3 percent bonus, they got a 3 percent increase in base pay going back to July 1, 2011.  Members also won 2.5 percent increase in wages each year for 2013 and 2014 for a total of 5 percent, instead of the original 0 percent with only a promise of a "reopener."
"SEIU Local 888 members and staff were aggressive and we didn't let up until we won.  Our political strategy complimented the bargaining strategy," said Springer.  "It was great to see the leaders at Valley Works step up to make it happen and finally get a contract."
Chapter chair Barbara Begin reported that the contract was ratified 18- 0 on February 12.