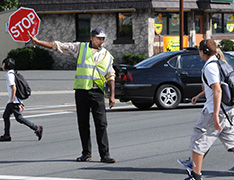 A statewide health and safety organization says that Massachusetts school crossing guards face unacceptably high rates of death and injury on the job. According to a report by the Massachusetts Coalition for Occupational Safety and Health or MassCOSH, nine crossing guards were injured on the job in 2012 when they were struck by vehicles. One of the guards sustained injuries that proved to be life threatening. In the past four years, two Massachusetts school crossing guards have been killed on the job.
The report, entitled "Dying for Work in Massachusetts" and released on Workers Memorial Day, found that 32 workers in the state were killed on the job last year. Several of the fatalities were related to transportation.
In order to make the crossing guard job less dangerous, MassCOSH urges Massachusetts cities and towns to comply with national standards. A coalition of guards across the state is working to develop additional safety recommendations.