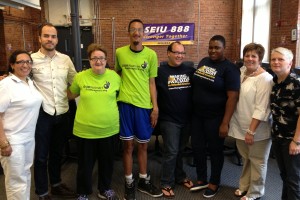 Walmart workers across the country, including here in Massachusetts, have been speaking out and walking off the job to call attention to low wages and poor working conditions at the company. Now these workers are asking for your support.
Doreen and David Coulomb (in bright green t-shirts) both work at the Walmart store in Chelmsford and are members of Organization United for Respect at Walmart, or OUR Walmart. With hundreds of other Walmart workers across the country, they participated in a one day strike in June to improve their wages and working conditions.  Walmart responded to this legally protected activity by firing and disciplining more than 60 workers – including issuing warnings to Doreen and David.
Accompanied by UFCW staff and Jobs with Justice organizers, the two OUR Walmart members visited with Local 888 officers and staff on Thursday, Aug. 1.  They are looking for support from SEIU and other union members in Massachusetts to attend a rally on Sept. 7. (See calendar on next page for details.)
If you would like to attend the Solidarity Rally, please contact Rand Wilson at the Local 888 union hall.  If you have family or friends who work at Walmart, contact JWJ organizer Edwin Argueta at: edwin@massjwj.net.