Guild Spring 2014 ~ 123rd Term Monday evenings 7 pm-9:30 pm March 3rd thru May 5th (Graduation)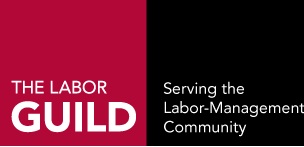 PERIOD I Stewards Job - Mike Foster Government Agency All-Stars - Jim Cooper & Rosemary Pye Workers Comp /FLMA – Arthur Zack, Esq. & Robert Schwartz Esq. Labor Law for Public Sector - Howard Lenow, Esq. & Sheilah McCarthy, Esq.
PERIOD II Negotiation Workshop - Paul F. McCarthy Retirement Security & You: Pensions 401(k) & Social Security – Allyson Every, Mark Smith & Guest Experts Snapshot of Labor Relations - Kenneth Grace, Esq. SkillSharing: A Mini-Workshop Series - Charmaine Champagne
Our Spring term kicks off Monday, March 3 at the Guild's Center, 85 Commercial Street, Weymouth Landing MA (No classes Mon April 21 Patriot's Day - Graduation is Mon May 5th).
With eight interesting options, you can take two Monday courses per term. Faculty are top labor practitioners, attorneys, arbitrators, and consultants Tuition is just $100 for the term whether you take one or two courses. To Register, visit laborguild.com or call 781-340-7887.