When Massport Dispatchers found that they had no meaningful input regarding their workloads and they weren't treated as well as union workers at the airport, they did the logical thing: they reached out to Local 888 for help.
[caption id="attachment_5314" align="alignright" width="300"]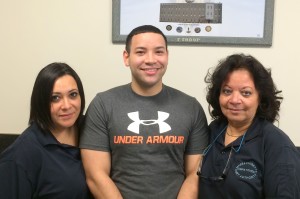 New union members: Nina Alicea, Steven Morales,
Gracie Adorno.[/caption]
"We formed our union here at Massport because we need protection, like a security blanket," said Gracie Adorno, a 24 year Senior Dispatcher from Randolph who spearheaded the effort. "We chose Local 888 because of its proven track record representing dispatchers throughout the state of Massachusetts including the State Police and the cities of Boston and Somerville."
State law allows workers to win recognition once a majority of employees sign a petition to join a union. The Massport group was certified on June 23.