TAKING ON THE CORPORATIZATION OF HIGHER EDUCATION Wednesday, March 18, 2015, 4:00 - 7:00 PM UMass Boston, Ryan Lounge - McCormack Hall 100 Morrissey Blvd, Boston, MA 02125 From skyrocketing tuition and student debt to underpaid, overworked faculty and staff, we all see it happening every day -- more and more, our colleges and universities are running on a corporate business model that controls the very education that is offered, and that hurts students and employees. The price is $20 for Faculty/Fully-Employed Registration and $5 for Student/Unemployed/Low-Income Registration. REGISTER ONLINE: bit.ly/TakingOnCorporateHigherEd  (The link is case sensitive!)
Celebrating 34 Years of Mass Senior Action When: Thursday, March 26, 5:30PM – 8:30PM Dinner, Awards, Music and Dancing 1199 SEIU, 150 Mt Vernon St., Dorchester, MA Purchase tickets online at www.masssenioraction.org
Steward Training 101 Three sessions of Steward Training 101 with SEIU Local 888 Field Director Lisa Field have been scheduled. This will be a steward training for "beginners," and will cover: the power of the union, Weingarten Rights, Duty of Fair Representation, what is a grievance, and the grievance procedure. Seats are limited, so members need to RSVP. Members should bring a copy of their contract. Lunch will be provided. Please RSVP to lfield@seiu888.org. • March 28, from 10AM-2PM, Local 888 union hall • April 2, 10 AM-2PM, Brockton Public Library, 304 Main Street, Brockton • April 27, 10AM-2PM, SEIU Local 888 Merrimack Valley Office, 104 University Ave., Lowell
Mass. Jobs with Justice Annual Dinner Thursday, April 2, 6-9PM (6PM cocktails, 7PM dinner, 9PM dancing) 1199 SEIU, 150 Mt Vernon St., Dorchester, MA For more information visit www.massjwj.net.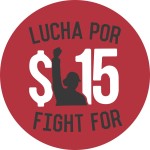 Fight for $15 (March and Rally) Workers in Massachusetts are demanding $15/hour from our employers – and WINNING! They've done it elsewhere and we can do it here. Wednesday, April 14, 2015 4:00 PM to 6:00 PM Save the date and stand with us for economic justice! Too many low wage workers are trapped in poverty. We are tired of being pitted against each other in a race to the bottom. Rain or Shine. Family friendly.  Join the fight. Be a part of this historic national day of action. We will win. BOSTON: Rally near Northeastern & Ruggles MBTA stops.  *Boston and regional bus/event information TBA.
National Lawyers Guild 2015 Annual Dinner Friday, May 15, 6PM-9PM Dante Alighieri Cultural Center in Kendall Sq., Cambridge Local 888's Karen "Rudy" Renaud will receive the Lawyers Guild annual Legal Worker award.
Labor Guild Spring Classes Starting Soon Labor Guild Spring 2015 Term starts March 16. This semester's courses include The Steward's Job, Seeking Leadership, and Collective Bargaining Negotiations. For more information and to register visit //laborguild.com/school/catalog/