Jason George will be there—will you? On April 14, fast food workers, retail workers, PCAs, adjuncts and part time faculty, and thousands of union members are going to stand up for good jobs that pay enough for a secure future. The Boston event will kick off rallies across the country and around the world.
[caption id="attachment_5919" align="alignright" width="215"]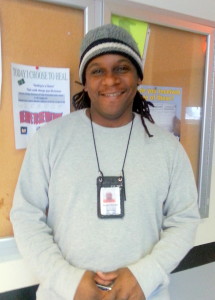 Local 888 member Jason George say that he's planning on attending the April 14th Fight for $15 rally in Boston because "you can't live on the minimum wage." Will you be there?[/caption]
George learned about the event at a recent Local 888 steward's training and says that he's been spreading the word ever since.
"So many people barely make $15 an hour. That's why this march is so important. You can't live on the minimum wage. Even working for the City of Boston, I have to work two jobs to survive," says George, who was recently promoted from a counselor to an assistant coordinator at the Boston Public Health Commission's Woods-Mullen Shelter in the South End.
George says that he has been dropping off fliers at fast food restaurants all over Dorchester and Mattapan. "I've also given them to many of my friends in low wage jobs," says George.
The march and rally will begin at 4:00 PM at Forsyth Park (at the intersection of Huntington Ave. and Forsyth Way) near Ruggles and Northeastern MBTA Stops.
It will end at approximately 6:00 PM near the Boston Common.
"We're encouraging Local 888 members to attend and to bring as many of their co-workers as possible," says Local 888 Secretary-Treasurer Brenda Rodrigues.
She says that by joining forces with low-wage workers who are fighting for $15 an hour and a union, union members will ultimately strengthen their own hand at the bargaining table. "Wherever the Fight for $15 succeeds, it puts more money back into our communities — which in turn creates more good jobs." Members are also encouraged to bring their families and friends, especially if they make less than $15.
Can't make it into Boston for the big event? Wear a sticker on-the-job that day to show your solidarity with the event and raise awareness about the importance of the Fight for $15 for all of our members. To order stickers, call your union representative.
Need a ride to the rally? For information on bus transportation to the rally, visit Local 888's website at www.seiu888.org or call (617) 241-3300.