Boston Home Center is offering two attached single family homes and four two-family homes for sale by lottery to a first-time homebuyer. Click here to learn more about these homes for sale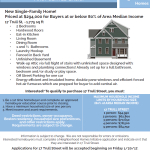 Applicants must have completed an approved homebuyer education course prior to closing; have a minimum household size of the number of bedrooms, minus one person; and meet income and asset requirements.  These homes are deed restricted, owner-occupancy, Boston residency and household size preferences. Other restrictions apply. Buyers will be selected by lottery.
Interested homebuyers should apply to the Neighborhood Homes Initiative.  Applications for NHI are accepted on a rolling basis; however those interested in the Thetford/Dyer Lottery must have a completed application with all required documentation submitted by February 8, 2017 at 5:00 PM to be included.
Applications are available in person at the Boston Home Center, 26 Court Street, Boston, MA 02108 or on-line at www.bostonhomecenter.com; or can be requested by calling 617 635-4663.