For the fifth year in a row, staff at the Committee on Public Counsel Services (CPCS) went to the State House on May 9 in support of legislation for collective bargaining rights.
[caption id="attachment_7534" align="alignright" width="300"]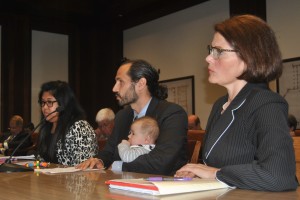 Left to right -- Attorneys Jennifer Coliflores, Nathan Wong and Rachel Scotch testifying before the Joint Committee on Public Service.[/caption]
"Despite the fact that all other agencies in the Commonwealth have the right to form unions, hundreds of public defenders and support staff who work for CPCS are denied this basic right because we were left out of the state collective bargaining law," said Rachel Scotch, a public defender at the Malden district office, at a statehouse hearing on Senate Bill 1426 and House Bill 1426 before the Joint Committee on Public Service.  "When our clients suffer, the whole system suffers.  This isn't just about our livelihoods, it's about people's lives."
"I was hired in 2011, with 53 other public defenders, one of the largest hiring groups in CPCS.  In the Worcester Office, out of my hiring class, there only remains myself and one other attorney -- and that office started off with seven attorneys," said Nathan Wong, a Public Defender in Worcester. "At CPCS, we don't have the expectation that we'll receive regular pay raises. We are paid lower than workers at all other state agencies who do similar work. Working at CPCS should not be considered a stepping stone to private practice, it should be a career. Passing legislation that gives us a path to choose collective bargaining could stabilize turnover and improve our services."
"We are passionate and dedicated. All we want is a voice at work so we can better advocate for our clients and have a say in our own future," said Jennifer Coliflores, a public defender with the Worcester Superior Court Office who also testified at the hearing.
"The legislation, An Act relative to the collective bargaining rights for employees of the Committee for Public Counsel Services (S.1426 and H.1426) has more support this session than ever before," said SEIU Political Director Dan Hoffer. "With 113 House co-sponsors and 28 Senate co-sponsors, this is the first session the bill has bi-partisan support with eight House republicans and two Senate Republicans signing on."
The public defenders and staff are cautiously optimistic about gaining a vote in the legislature this year.
More information about the campaign is at www.seiu888.org/massdefenders.