Paul Feeney won the special election for the Bristol & Norfolk district state senate seat. He is a longtime IBEW Local 2222 member and was endorsed by Local 888.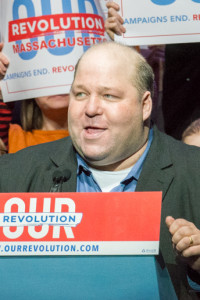 There was only a 700 vote difference between Paul and his opponents. It shows how much every vote counts.
Paul ran on a platform of giving a voice to hard-working families, seniors and young people that live in the district.
Paul knows that as traditional economic engines continue to shift, seeking new employment opportunities in emerging fields is imperative. Paul will work to increase employment opportunities by advocating for investment in high-growth fields such as renewable energy and life sciences.
Having an advocate for working people's interests in office is a victory for union members everywhere. We look forward to continuing to work with Paul!
Check out this article in the Foxboro Reporter that covered Paul's positive, value-driven campaign, //bit.ly/2grcZgE.
Don't forget to vote on November 7!
COPA Report
The Committee on Political Action met on Oct. 16 to review endorsements and make plans before the Nov. 7 election.  Below are important dates for our endorsed campaigns. Members are strongly urged to volunteer on these days. If you can join us, please email Joe at jlazzerini@seiu888.org.
Campaign Days of Action: October 24, 4:30-8pm Lydia Edwards Phone Bank 434 Chelsea St #2, East Boston, MA 02128
October 25, 4:30-8pm Steve Winslow for Malden Phone Bank AFLCIO Malden, 389 Main St, Malden, MA 02148
October 21, 28, November 3, 10am-2pm Brockton SEIU Community Action Canvass Saturdays: For Bob Sullivan and Jean Derenoncourt for City Council at-large CSJ office, 721 Belmont street, Brockton, MA 02301
October 28, 10am Lydia Edwards, Boston State Council Canvass Day, 434 Chelsea St #2, East Boston, MA 02128
October 28 from 9:30 AM to 12:30 AM Labor Canvass for Steve Winslow Local 22 HQ on 35 Highland Ave, Malden
To see a full list of endorsed candidates in 2017 visit: //www.seiu888.org/2017-political-endorsements/