[caption id="attachment_7907" align="alignleft" width="270"]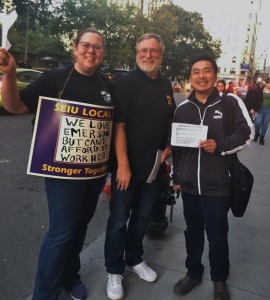 Emerson Local 888 members Richelle Devereaux-Murray, Dennis Levine and Elbert Lee joined the informational leafletting action.[/caption]
In late October, soon-to-be members of Local 888 at Emerson College participated in an informational leaflet outside the Emerson College Board of Directors meeting. Members wore signs and passed out leaflets to board members and executives about their low pay and frustration with the slow pace of negotiations.
Emerson staff members won their union back in April 2016, but are still in the negotiating process for their first contract. At the next bargaining session following the leafletting action, Emerson administrators and union representatives reached tentative agreement on health and safety. This shows how actions by a few people working together can influence those in power to pay attention to workers' needs.
When we fight, we win!
Emerson members are continuing with their contract negotiations and are hoping to have a contract soon.
Would you like to make a similar impression on your boss? Contact your Local 888 Field Rep to talk about planning a workplace campaign where you work.