[caption id="attachment_8223" align="alignnone" width="300"]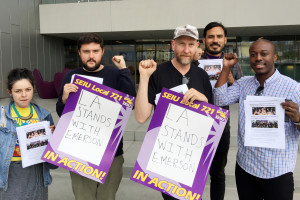 SUNNY SOLIDARITY: Members of SEIU Local 721 in Los Angeles stand with Emerson College workers in their fight for a fair contract.[/caption]
The staff union at Emerson College has filed unfair labor practice charges against the school for changing SEIU Local 888 members' jobs and working conditions without negotiating first with their union.
The Emerson College staff has been bargaining for 18 months for a first contract.
John-Albert Mosley, program coordinator in the Visual & Media Arts department and member of the Emerson Staff Union said, "I love working at Emerson, but we refuse to accept the administration's consistent attempts to undermine union support. We come to the bargaining table in good faith and we expect the administration to do the same."
The charges filed with the National Labor Relations Board included complaints that the college's representatives have failed to bargain in good faith by making unilateral changes. Also, workers charged that Emerson has violated their federally protected rights to engage in concerted collective activity to improve wages and working conditions.
Management insists that Emerson cannot raise union members' pay because it is a nonprofit. In the meantime, the college continues with expansion plans, including the purchase of a $24 million building. And its own wage-comparison studies show staff is paid well below market rate.
"Although negotiations have been lengthy, this first contract will lay the foundation for the future," said Hersch Rothmel, Local 888 organizer. With charges filed and an active membership ready to fight, he said, "the Emerson Staff Union is confident about the outcome."
The 140 members of SEIU Local 888's Emerson Staff Union provide critical administrative services and support to students and faculty in the information technology, registration, television, radio, film, library, clinical and academic departments.