[caption id="attachment_8958" align="alignnone" width="200"]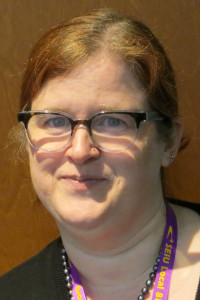 AIMEE SLATER[/caption]
The Brandeis librarians have been in negotiations with the university since the end of June. But the administration has refused to bargain fairly. In response, the library staff have started to fight back – and have gained support from students, parents and the wider Brandeis community.
"We serve students, and we need to regularly let them know that we need their help, too," said Aimee Slater, a government information and social sciences librarian. On Oct. 12, the Local 888 librarians set up a table at the Brandeis Family Weekend – educating students and parents about the importance of supporting the librarians in their fight for a fair contract.
"We actually had parents say they would call the administration right then and there to pledge their support for us," said Slater.
In addition, the librarians are deepening their ties with the Brandeis Labor Coalition. The coalition has, in turn, written in support of the librarians in the Brandeis Hoot, the community newspaper (//brandeishoot.com/2018/10/19/librarians-deserve-a-fair-contract/ ).