[caption id="attachment_9009" align="alignnone" width="300"]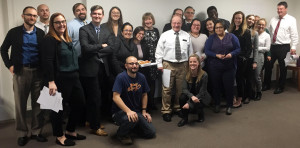 COMING TOGETHER: Workers at the public defenders office in Worcester meet as part of a statewide drive to set up their structure, elect chapter leaders and form their union.[/caption]
The MassDefenders are holding meetings around the state with an eye toward electing chapter leaders — and putting pressure on management to make workplace improvements.
Already, their protests and lobbying of legislators have been rewarded with significant raises, due in January. But they want respect as well — along with the stable workplace environment that a union contract would bring. A Thanksgiving week meeting in Worcester drew an enthusiastic crowd.
"People were energized by the idea of taking steps to form a chapter — and not waiting for the Legislature to act," said John Sadek, a public defender in the Worcester office.
The MassDefenders latest drive kicked off in Fall River this fall. Almost the entire office of the Committee for Public Counsel Services — the bureaucratic name for the state's public defenders — attended an organizing meeting. And they signed union cards. Other such meetings are planned — from Pittsfield to Provincetown.
The roughly 750 lawyers, investigators and social service advocates and administrative staff in the state agency want to form a union. But a loophole in the law denies them this basic human right. Last legislative session, a bill to fix this loophole never made it out of the House Ways and Means Committee, led by state Rep. Jeffrey Sanchez.
After this setback, Local 888 Secretary-Treasurer Tom McKeever called on the MassDefenders to step up their efforts. "Local 888 has been with you on this journey for rights and respect for six years. We aren't going to give up now."
Then, in the Democratic primary this fall, Sanchez was trounced by Nika Elugardo, who spoke about her victory at the Local 888 convention in October. (For more coverage of state Rep-elect Elugardo's election victory, see //www.seiu888.org/ .
While this defeat was gratifying, much work remains to be done.
A few years ago, the situation was so bad that a state commission found that the public defenders' salaries were — when adjusted for inflation the lowest in the nation. Even below West Virginia. This has led to high turnover.
But the workers in the public defenders are committed to the indigent clients who they serve — and to pursuing their own rights.