[caption id="attachment_9162" align="alignnone" width="300"]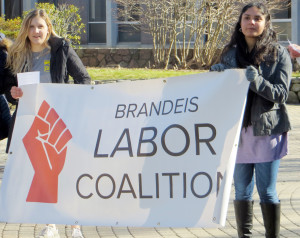 SHOWING SOLIDARITY: Members of the Brandeis Labor Coalition support the Local 888 librarians.[/caption]
Local 888 librarians at Brandeis University won their new contract with a key assist from the wider college community. Some members will receive up to 15 percent raises over the life of the three-year pact with "market adjustments."
A student group, the Brandeis Labor Coalition, "played a really essential role," said Local 888 organizer Hersch Rothmel. "They were the most organized student group I've ever seen."
The librarians' campaign garnered 75 student testimonials addressed to Brandeis officials and support from multiple unions on campus as well as parents and alumni. These included Jules Bernstein, a labor lawyer who sits on the board of the Waltham university's Heller School of Social Policy and Management.
"All these factors were working in our favor, and we were able to take advantage of them," said Rothmel. "And our own members were fired up and ready to go."
The librarians' new contract, approved unanimously, includes across-the-board raises of at least 9 percent over three years, improved access to professional development and more flexible scheduling and break times.
Negotiations had languished for months; the old contract expired in June. The contract campaign culminated with a Dec. 3 lunchtime rally where the librarians were joined by more than 50 supporters. These included Drew Flanagan, a Brandeis English lecturer and shop steward for the adjunct professors union, SEIU Local 509.
"All we're asking is to be treated with dignity and with the acknowledgment that we do important work," said librarian Joanna Fuchs at the rally. "We love our jobs and want everybody in this community to be a success."
Just days later, the librarians hammered out the new pact.
Undergrad Alina Sipp-Alpers told a student paper that the Brandeis Labor Coalition attributes the contract victory to the solidarity rally. "The university finally understood that the librarians had the students' support and that they would not back down until they were given a fair contract." (https://www.thejustice.org/article/2018/12/after-rally-brandeis-university-offers-new-librarians-union-contract )