[caption id="attachment_9632" align="alignnone" width="300"]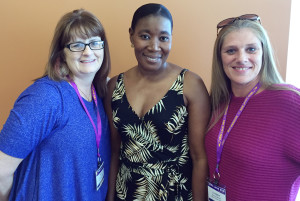 STEPPING UP: Chelsea Soldiers Home workers at the 2019 Leadership conference include, from left, activist Helen Farraher, Speandilove Nelson, chapter president; and Chrissy Wilson.[/caption]
Chelsea Soldiers' Home leaders have made headway with getting management to deal with chronic understaffing. But leaders have also stepped up to make sure that positions are filled fairly – and that Local 888 members have clear opportunities to get the assignments that meet their needs.
"Members were very happy with the results," said Speandilove Nelson, chapter president. "Members who wanted to work 40 hours a week, rather than part time, were able to do that."
All told, seven members secured reassignments to the jobs and shifts they wanted. Left to its own devices, management had planned to use a job fair to fill vacant positions, including those with hours or schedules that members wanted.
Union leaders made sure that positions were posted clearly and Local 888 members got a first crack at them. To let workers keep up with these and other developments at the Chelsea Soldiers' Home, leaders put out a newsletter.
Nelson and other Chelsea chapter leaders had the chance to share their experiences at Local 888's 2019 Leadership Conference. Elmer Arriaza, chapter vice president, was a facilitator for a workshop on "Effective communications to build unity at work."
All told, the workshop was broad in scope and looked at the many forms that this can take — one-on-one, group meetings, e-mail, Facebook and newsletters.