[caption id="attachment_9700" align="alignnone" width="300"]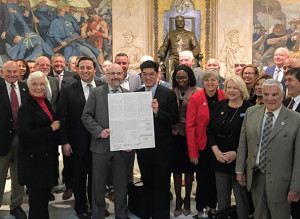 LABOR SAVORS VICTORY: Local 888 President Brenda Rodrigues, at far right, was on hand to celebrate a new law that will require employers to allow union leaders to give an orientation to new hires.[/caption]
A new Massachusetts law could blunt the effect of the U.S. Supreme Court's Janus decision, which undermined public workers' right to collective bargaining.
The official bill-signing marked a major legislative achievement for Local 888 and the labor movement. The new law requires public employers to give union leaders time to provide orientation to new hires, during work hours and in the workplace.
In addition, the law shields public employees' contact information, such as emails and home addresses, from the general public. This will curb groups backed by corporations and wealthy donors, such as the Koch brothers, from launching campaigns that attack public sector unions.
The law maintains unions' access to members' contact information. In addition, unions will be given the option of charging fees for services to those who aren't paying dues. This includes grievances and arbitrations.
The Massachusetts law comes in a response to the Supreme Court decision that overturned  decades of legal precedence. The court ruled that public unions could not require those who opt out of joining to pay "fair share" or agency fees.
For more info on the new law, contact Tom McKeever at tmckever@seiu888.org.