Support Schools, Towns, Health Care and Services! Support "An Act to Invest in Our Communities"
House Lead: Rep. Jim O'Day, Senate Lead: Sen. Sonia Chang-Diaz. (SB1416 / HB2553)
THE PROBLEM: We are just emerging from the deepest Recession of our lifetimes. With the end of federal stimulus funding, we have a nearly $2 Billion budget deficit. That means our schools, Local Aid, and emergency and health care services face deep cuts this spring. Meanwhile, wealthy investors and high-income households have had their Bush-era tax cuts extended, worsening deficits and economic inequality.
THE SOLUTION: We need to invest in our communities and keep middle-class families working and earning! "An Act to Invest in Our Communities" (HD 2261/ SD 1012) does just that. While there will be substantial cuts in services this year, this bill takes a balanced approach to the fiscal crisis by raising revenue to maintain the services we need and value. By asking more from high income households and investors who received large windfalls from the Bush tax cuts, while raising the personal exemption as a way to hold down the tax increase for middle-class families, the bill raises needed revenue primarily from those who can best afford to pay. With that revenue, we can keep the quality schools and services that make our state a good place to live and do business.
WHAT THE BILL DOES: 1) Restores the income tax rate from 5.3% to 5.95%, but raises the personal exemption enough to hold down increases for middle-class families. 2) Raises the tax rate on wealthy investors, but provides a targeted exemption for middle-class seniors. 3) Raises revenue to maintain funding for our communities, schools and health care.
The graph below shows how the Act to Invest in Our Communities would raise approximately $1.2 billion dollars for public services in Massachusetts and where the money will come from: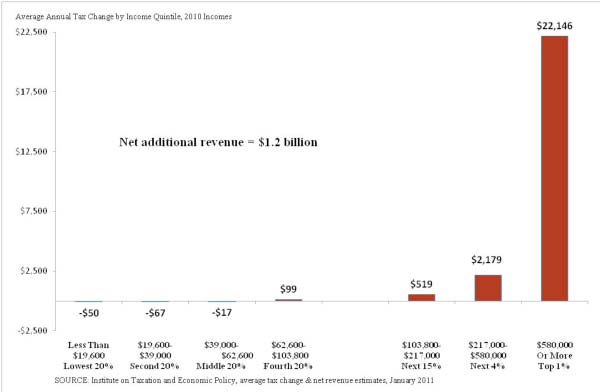 The graph below shows the share of state and local taxes currently paid by Massachusetts residents and the how the Act to Invest in Our Communities would lower taxes on working families while making the richest pay their fair share: