Members of the Community Action Agency  of Somerville unanimously approved a one-year contract .
"This was a hard-fought struggle," said "Chapter Chair Ashana Ward. "Management wanted to increase our share of health care premiums, and for many months refused to consider any cost of living increase"
CAAS members went on the offensive  - demonstrating solidarity by wearing their union tee shirts to work, emblazoned with "CAAS – Promoting Poverty Where We Work," a play on the agency's mission of "Working to End Poverty Where We Live." They also storming a board of director's meeting – sharing tales of the hardships caused by living low wages .
"In the end, not only did management give up on their demand that we pay a higher share of our health insurance but we won a 1.5% raise as well," said Ward.   "We won because our members had the courage to fight back."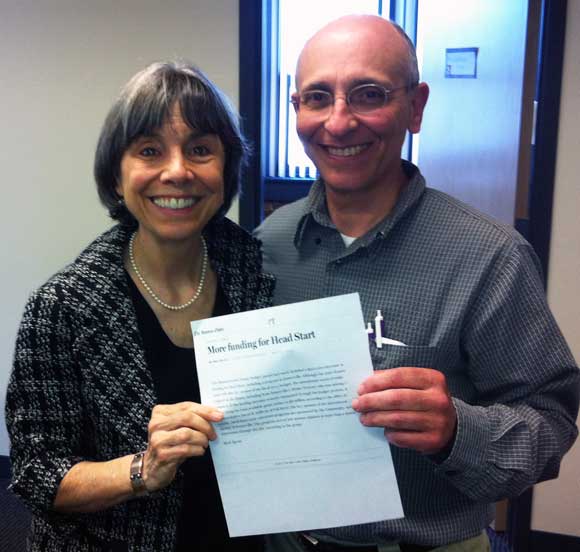 Above: State Rep. Denise Provost and 888 Regional Rep Steve D'Amico celebrating passage by the legislature of an additional $500,000 in funding for Massachusetts Head Start programs. Rep. Provost played a key role in moving the legislation.