[caption id="attachment_2698" align="alignleft" width="300" caption="STRONGER TOGETHER—SEIU Local 888 President Mark DelloRusso with union members and leaders at the bi-annual membership convention."]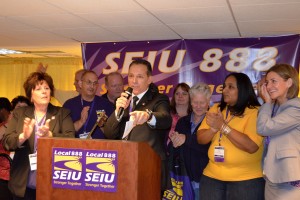 [/caption]
Hundreds of SEIU Local 888 members and guests came together for last month's membership convention—the largest gathering since Local 888 was formed in 2003. Members attended from across the state, representing chapters large and small. "The convention was a testament to the members of Local 888," says President Mark DelloRusso. "The commitment to building our union was truly an inspiration for us all."
Key note speaker Tom Woodruff, SEIU Executive Vice President, spoke about the attacks on public sector employees, and urged delegates to get involved in order to fight for a better future. "The one percent has one clear goal: keeping working people from standing up and fighting back collectively," Woodruff warned the crowd. "We need to change the debate. We have to get more of our members involved than ever before." In a presentation to delegates on the proposed Dues Equality measure, which places all members on the same 1.6 percent dues structure, Secretary- Treasurer Brenda Rodrigues explained that adequate resources are key to building a stronger, more effective union. In recent months, Rodrigues, DelloRusso and other Local 888 leaders visited dozens of chapters across the state and heard a common refrain. "We heard that chapters need more help and resources to be stronger. Dues Equality is the critical step we have to take to reach that goal," said Rodrigues.
Members took to the floor to speak and ask questions about the proposed dues measure for more than an hour. Mashpee Department of Public Works employee Jim Corcoran spoke to the issue of fairness. "Unions are about treating everyone fairly. Treat everyone fairly and we can be a stronger union." Others talked about their hopes for a better union and said that they are encouraged by Local 888's new direction. "A lot of things are changing for the better," said Lori Moran of the Watertown Town Hall Associates. "I like the idea that as a small chapter we can be stronger." The resolution for Dues Equality passed by more than a 3 to 1 margin in a secret ballot vote. The new dues structure will be phased in beginning in January 2013.
In addition to the Dues Equality measure, members also passed a resolution urging resistance to employer efforts to shift insurance costs to workers and strongly supporting reforms that build on the national Medicare program as a model to contain health care costs and the best way to achieve a single high standard of health care for everyone in America.
[caption id="attachment_2696" align="alignleft" width="300" caption="LISTEN UP—Local 888 members listen to a speaker at last month's convention. The gathering was the largest since Local 888 was formed in 2003."]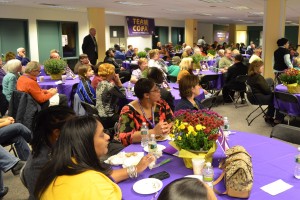 [/caption]
A third resolution—passed unanimously—supported uniting more workers in Local 888 to win good jobs and a stronger voice to improve public services by identifying new opportunities resulting from the re- structuring of government and public services to unite more workers in the private sector.
A resolution on a Financial Transaction Tax (FTT) failed to win support from the Local 888 executive board, but nevertheless was adopted by the membership after an impassioned presentation by Greg King on the floor of the convention. The FTT would place a half a percent federal tax on financial transactions, yielding as much as $350 billion a year in new revenues for much needed services and other social benefits. Copies of the four resolutions adopted at the convention are posted on the Local 888 website at www.seiu888.org/convention/ Special guest, Boston City Councillor Charles Yancey, summed up the spirit of the convention when he praised members for fighting for all working people. "[I]f we fail to protect the rights of all workers, then we fail to protect our future and we fail to live up to the beliefs on which we have been raised."