[caption id="attachment_2715" align="alignright" width="272" caption="CHANGE AGENT—Lisa Field (left) with friend Jody Boudreault at their 25th reunion at Taunton's Coyle- Cassidy High School. Field, who joined the staff of Local 888 in August, is also an advocate for public higher education in Massachusetts."]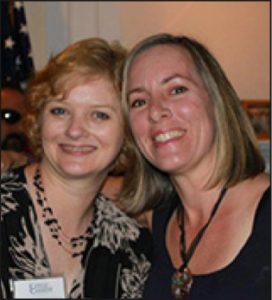 [/caption]
Lisa Field, who became the regional representative for Local 888 back in August, knows a thing or two about a rebuilding a union. Field was working in the library at Fitchburg State University when the school announced the coming layoffs of twenty employees. Concerned that FSU management was ignoring the contract and were likely to pick and choose who they wanted to lay off, Field decided to step up and get involved. She became the steward, a position she held for four years, before running for president of her AFSCME local that represents 3,000 state and community college employees across Massachusetts. "Our goal was to get as many people involved as we could and really revitalize the local," says Field.
Field would go on to work for AFSCME Council 93 as a staff representative for three years, working with 2,800 members in public education and in 22 cities and towns. These days Field spends most of her time assisting Local 888 members, primarily in Worcester County. Field says that she's particularly excited by the opportunity to help rebuild and reinvigorate a union. "The way SEIU is organized, the members have a lot of say. The leadership is held accountable by the members—that's significant," says Field.
While Field's days as a campus library worker may be in the past, she continues to advocate for public higher education and sits on the board of PHENOM, the Public Higher Education Network of Massachusetts. Says Field: "As a child of an a immigrant, afford- able public higher education has enabled me to live the American dream. I want those same opportunities not only for my kids but for all kids in Massachusetts."