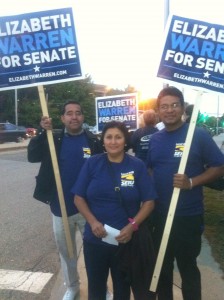 After the election of a new leadership team at Local 888 last spring, we made a commitment to our members and to the International Union to work to elect pro-worker candidates. President Mark DelloRusso and Secretary-Treasurer Brenda Rodrigues asked members to volunteer and assigned staff to work in either Massachusetts or New Hampshire to support the election effort. The weeks of hard work paid off. Here is what Local 888 did:
• 81 members volunteered for Election Day and Get Out the Vote activities; • 41 member worksite organizers talked with members about the elections. • Members and staff spent a combined total of 241 days in the field in MA and NH; • Phone calls were made to 3,937 members in support of endorsed candidates; • 14,248 mailings were sent to Local 888 members with information about where the candidates stood on our issues.
Click here to read the full political report in a printable version.
To see how Local 888 endorsed candidates did in the Election visit //www.seiu888.org/2012/08/09/2012-legislative-endorsements/.