[caption id="attachment_2749" align="alignright" width="300"]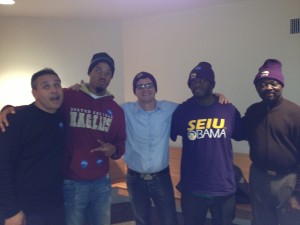 Team Brockton (from left): Tomas Gonzales and Angel Howell (MassUniting), Daniel Hoffer (SEIU Local 888), Jon Stroud (SEIU Local 888), and John Guerrier (SEIU Local 509).[/caption]
The SEIU Community action program in Brockton was led by Local 888. It started on Sept 10 and finished after the election. It was a concerted effort by Local 888 and the Massachusetts SEIU State Council to increase voter turnout in the community. The idea was that if SEIU could significantly raise turnout among people who vote infrequently in urban areas like Boston, Brockton, Springfield, Lawrence, Lynn, Fall River and New Bedford, then Elizabeth Warren would win the Election.
It worked! SEIU Community Action in Brockton alone knocked on over 13,000 doors increasing voter turnout over 2008 levels by 3 percent. Over all SEIU Community Action helped beat 2008 turnout levels by over 6 percent. The increased turnout was a major factor helping Elizabeth Warren win an eight point victory over incumbent U.S. Senator Scott Brown. The whole program was paid for by COPA contributions from Massachusetts SEIU members.
For a complete list of vote totals for SEIU Local 888 and State Council endorsed Pro-Worker Candidates visit //www.seiu888.org/2012/08/09/2012-legislative-endorsements/.