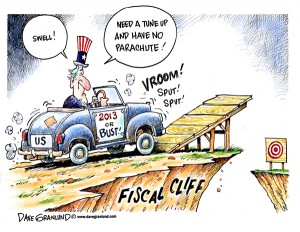 Anyone watching the post-election news has no doubt heard about the approaching "fiscal cliff." If Congress does not reach a budget deal by January 1, 2013 automatic cuts will kick-in, cutting military spending by 10 percent and domestic programs by 8 percent across the board.
Many Local 888 members' jobs are funded directly or indirectly by the Federal government. If a deal is not reached, the automatic cuts could result in layoffs of thousands public employees and other service workers--potentially pushing the economy back into recession.
Avoiding the fiscal cliff is crucial to the survival of many Local 888 members and thousands of other public service workers in Massachusetts. Whether you are a public school custodian or a Head Start early educator, the proposed cuts will be fast and deep. We've learned from the past that members can't sit back and rely on President Obama to fix the problem. He simply can't do it alone.
That's why Local 888 leaders have teamed up with other public service unions in Massachusetts to apply pressure on Congress to reach an agreement that does not put the burden on working class families and the poor. SEIU is calling that effort the "5th Wave."
The 5th Wave is part of a larger "Jobs Not Cuts" campaign with the goal of staving off cuts that could impact SEIU's membership and vital public services like health care and education.
Member Political Organizers (MPO) from SEIU Locals 888, 509, 615 and 1199 will be working with members across the state to contact their representatives in Congress about how the services we provide are critical to their communities.
The campaign will focus on engaging members in political action through joining the Committee on Political Action (COPA), collecting "Jobs Not Cuts" postcards to give to our elected officials, and building participation in a December 10 statewide action to support public services.
Get Involved If you'd like to get involved with the 5th Wave program or are interested in being a Member Political Organizer, contact Local 888 Interim Political Director Dan Hoffer at dhoffer@seiu888.org or call (617) 784-9369.