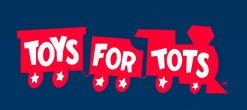 Local 888 is proud to partner with the U.S. Marines and Toys for Tots this holiday season to help brighten the holidays for local children. Toys can be dropped off at the Local 888 union hall at 52 Roland Street, Suite 101 i n Charlestown, from Monday – Friday, 9:00 a.m. to 5:00 p.m.
The toy collection will run through Saturday, Dec. 15. Contact Brenda Rodrigues for more details 617 241 3322.
If you would like to donate monetarily, please mail checks payable to toys for tots, at mail the check to the Union Hall (address above).
Since the program was founded in 1947, Toys for Tots has provided deserving families with the joy of a new gift on Christmas.  The mission of the Toys for Tots program is to collect new, unwrapped toys during October, November and December each year, and distribute the toys as gifts to needy children in the community.