[caption id="attachment_2788" align="alignleft" width="251" caption="Local 888 members who work at the Holyoke Soliders Home."]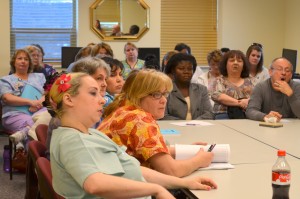 [/caption]
Sixty members who work at the Holyoke Soldiers Home attended a special chapter meeting with Local 888 leaders Mark DelloRusso and Brenda Rodrigues on Nov. 26. The meeting gave members an opportunity to air their concerns about workplace issues like access to earned vacation and personal days, and scheduling.
A number of representation issues raised by members were also discussed. Brenda Rodrigues announced that a new Local 888 rep will be assigned to the home. Recognizing that the chapter needs to become stronger, Rodrigues urged members to participate in union training and several immediately volunteered.
[caption id="attachment_2789" align="alignright" width="237" caption="Kwesi Ablordeppey, who works at the Holyoke Soldiers Home and is also a Local 888 Executive Board member, speaks with a coworker."]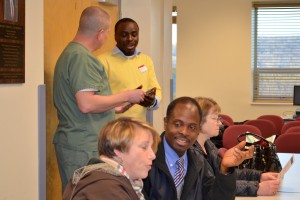 [/caption]
The group also discussed issues of common concern regarding upcoming legislation and renewed funding for the home. Along similar lines, forty members signed postcards to Congress urging their elected representatives to stand up for vital services and quality jobs.
After the meeting, DelloRusso, Rodrigues and Local 888 staff met with Superintendent Paul Barabani, who committed to holding a labor management meeting in the next two weeks.