[caption id="attachment_2982" align="alignleft" width="300" caption="Doris Santana and Lori Manning, nurse assistants in the Alzheimer's Unit at the Holyoke Soldiers Home, share their concerns with Local 888 President Mark DelloRusso."]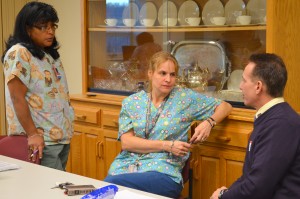 [/caption]
Since Mark DelloRusso and Brenda Rodrigues were elected leaders of Local 888 last year, they've made an effort to meet with as many chapters as possible. The meetings are an opportunity for members to voice their concerns and learn more about how Local 888 can provide better services, assist chapters to be more effective and build membership unity.
On Christmas Eve DelloRusso traveled to Westwood to meet with the Westwood School Custodians. The meeting was organized by Frank Chillemi, a senior custodian for 26 years who has been chapter chair since 1993.
"We had a great turnout—about 75 percent of the membership. Not bad for Christmas Eve, said Chillemi. "I think everyone was really pleased to have an opportunity to speak directly to our elected leadership.
Chillemi said that the chapter visit was also an opportunity to discuss and prepare for upcoming contract negotiations. "Strategizing with Mark about what we can do to win a good new contract was pretty interesting. I think it started to get us away from that, 'What can the union do for me' mentality to begin thinking how can we unite and win with all the resources of Local 888 behind us.
If you'd like Mark or Brenda to visit your chapter, call (617) 241-3300 or email Brenda at brodrigues@seiu888.org