Lobby Day for State Revenue: March 12th
Join the Campaign for Our Communities Lobby Day on March 12. Tell legislators we need to increase state revenue in order to invest in public education, health, safety, transportation and other crucial services. We need a strong economy that provides good jobs if we want Massachusetts to be a great place to live, work and raise a family. One of Local 888's top legislative priorities is the passage of "An Act to Invest in Our Communities" that would increase revenues for cities and towns.
[caption id="attachment_3471" align="alignright" width="300"]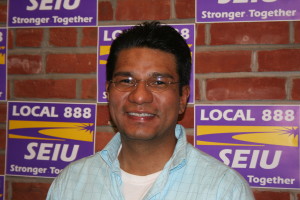 Jorge Vargas, member of the Committee on Political Action or COPA. Vargas is working to get more members involved in Local 888 political campaigns. "Our members are very concerned about how public policy affects them and their children. The union is a vehicle to affect change and fight for a better future."[/caption]
Local 888 member Carla Elder has signed up—and has been talking to her colleagues at Head Start about the lobby day. "We provide the essential services that make our communities strong," says Elder. "Our elected officials need to hear from us that now is the time to increase investment in our communities."
Elder's own agency, Head Start, is reeling from federal budget cuts, the result of the so-called "sequestration." This obscure term will likely cause real harm to the children served by the 38 Head Start agencies in Massachusetts. The 15 percent budget cut will result in teacher layoffs and the closure of at least one center, say Head Start officials.
Elder will be sharing her story with state lawmakers on March 12th. To join her and other Local 888 members, contact Dan Hoffer at dhoffer@seiu888.org.
Political Calendar:
U.S. Senate Candidate Forum Saturday, March 9, 10AM–noon 150 Mt. Vernon street, Dorchester, MA
Lobby Day for State Revenue Tuesday, March 12, 11AM-1PM Gardner Auditorium, Statehouse
COPA Meeting Tuesday, March 26, 6PM Local 888 union hall, Charlestown
Statewide Primary Election Tuesday, April 30
Senate Special Election Tuesday, June 25