Now more than ever, public service employees need a strong, united voice to make our elected officials listen.  And like it or not, it takes money because union dues cannot be used for political contributions.
[caption id="attachment_4014" align="alignleft" width="108"]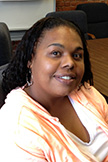 Rayleen Barboza[/caption]
Local 888 has hired Rayleen Barboza as our new political organizer. She will be working to recruit increased member participation on the COPA committee and helping to ramp up the political program.
Rayleen is an SEIU member from Fall River with experience working as a member political organizer on the Elizabeth Warren and Ed Markey campaigns.
Says Barboza: "With all the talk about budget cuts and austerity, each of us has to do our part to let the politicians know that quality services shouldn't be on the chopping block!" Want to help build the program?
Give Rayleen a call at (508) 318-8849 or email her at copa@seiu888.org.