[caption id="attachment_4016" align="alignleft" width="300"]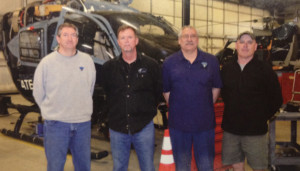 Helicopter maintenance technicians Lou Williams,Tim Cuthbert and Peter Gilson with director of maintenance Tom Koury (in purple).[/caption]
Members of Local 888 members who perform essential maintenance on the helicopters used by the Massachusetts State Police Air Wing have been recognized for their role in the apprehension of Boston Marathon bombing suspect Dzhokahr Tsarnaev. The helicopter maintenance technicians, who work at the Air Wing's Plymouth Facility, were cited in a feature story in Professional Pilot magazine.
Lou Williams, Tim Cuthbert and Peter Gilson are responsible for maintaining the helicopters in the state police fleet, including the Eurocopter AS355 TwinStar that was used to apprehend Tsarnaev. All three of the technicians are former Coast Guard helicopter maintenance personnel.
The Mass. State Police Air Wing has a fleet of five Eurocopters, and they are subject to rigorous safety and maintenance standards. Mike Potts, author of the Professional Pilot story, praised the highly professional flight operation, including the technicians, for their role in bringing the search for the bombing suspect to a close. Wrote Potts: "In doing so, they brought honor and respect to airborne law enforcement units and personnel everywhere."