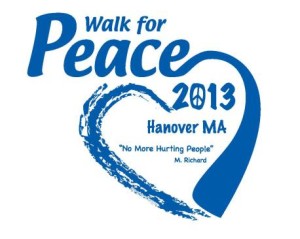 When Local 888 member Tom McKeever  and his wife Kate heard about the Richard family, tragically impacted by the Boston Marathon bombings, they knew that they had to do something. The McKeevers, who moved from Dorchester to Hanover last year, knew the Richards personally, and their daughter attended the same school as 8 year old Martin Richard, one of three people to die in the attack.
So the McKeevers sprang into action. They organized a "Walk for Peace" with the proceeds going to the Richard Family Fund, set up to help pay the ever-increasing medical bills for the family. Tom McKeever, who works for the Massachusetts State Lottery Commission, says that the aim of the June 23 walk, was to raise money to pay for a prosthetic leg for the Richard's daughter.
The event, organized in little more than a month, attracted hundreds of walkers, who kicked off their 2.2 mile walk at a Hanover elementary school, then attended a silent auction and fundraising raffle at Squires Pub. Martin Richard's own call for peace, "No More Hurting People," served as a theme for the event.
McKeever says that he was thrilled by the amount of publicity the event received, but hopes that people will continue to keep the Richard family in their thoughts even after their story has faded from the headlines. "They're going to have major expenses ahead."
To donate to the Richard family, go to www.richardfamilyfund.org