[caption id="attachment_4101" align="alignleft" width="300"]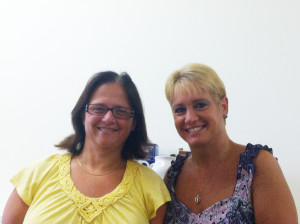 Ann Coleman and Tracy Wright from the Marlboro Paraeducators chapter. They recently helped to negotiate a new contract using a process known as interest-based bargaining.[/caption]
When it was time to negotiate their latest contract, members of the Marlboro Paraeducators chapter decided to pursue a different course. Instead of each side presenting a set of demands, the paras sat down with members of the Marlboro School Committee and talked. Bargaining committee member Ann Coleman explains that the process, called interest based bargaining, emphasizes shared values and problem solving. "It was a really different approach," says Coleman. "The School Committee learned a lot about what life is really like in the schools and we learned the 'why' behind their issues."
The result, Coleman notes, is a contract that more accurately reflects the demands and challenges faced by paras, who work alongside teachers in the Marlboro Public Schools, including serving as substitutes. The contract, which is effective through July 31, 2015, also establishes an innovative mentorship program in which current paras serve as mentors for their new co-workers.
The paras say that by expanding the conversation beyond the traditional bargaining table back-and-forth, issues that might otherwise have been discounted as unimportant came to the forefront. One example: communications. The new contract, which was approved unanimously, works to improve communications between the paras and school administrators. Members will receive more timely notification about their assignments prior to the start of the school year, and principals are required to hold at least five meetings per year.
The new contract also goes much further in treating the paras as professionals, something they've long sought but might not have been able to secure via standard negotiations. The practice of having paras serve as substitutes with no increase in pay, for example, is no more. Paras will also be compensated for translation work they do before or after work.
Potentially divisive issues, like a new evaluation system and a change in the allotment of sick days, were also on the table. But Coleman says that the interest-based process allowed for flexibility and compromise. The evaluation tool, the first of its kind for paras, allows for extensive input by the paras and will be monitored by a labor-management committee.
Says Coleman: "The process was certainly different and at times intense, but I feel we gained more respect. I'd definitely negotiate this way again."