[caption id="attachment_4098" align="alignleft" width="300"]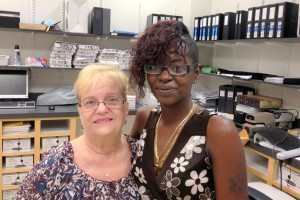 Charlotte Killam and Nicole Halley from the Boston Water and Sewer Commission. Killam says that Halley, recently diagnosed with MS, is an inspiration.[/caption]
An inspiration. That's how Charlotte Killam describes her colleague at the Boston Water and Sewer Commission, Nicole Halley.  Since Halley was diagnosed with multiple sclerosis last year, the 33-year-old mother of two has impressed her co-workers with her positive attitude. "Her spirit and determination are really amazing," says Ms. Killam, who contacted the Spark to suggest a profile of her colleague.
Spend even a few minutes speaking with Nicole Halley and you're likely to hear a lot about family. There's her work "family" at the Boston Water and Sewer Commission, where Halley began working at the age of 21. Then there's her extensive network of family and friends, many of whom joined her during a fundraising walk for the MS Society this summer.
In fact, Halley's group of supporters was so large that the charity asked them to be the face of the annual fundraising walk. More than 100 people walked with "Team Halley," raising a combined $3,000 for the fight against MS. "We had no idea they were going to ask us to lead the walk," says Halley. "It was an amazing experience and it left me wanting to do more."
MS runs in Halley's family—a beloved aunt passed away from the disease earlier this year. Halley's diagnosis so soon after her aunt's death sent shock waves through the family. The younger children were especially hard hit, says Halley, who has a 13-year-old and a seven-year-old. "The younger kids thought I was going to die. I thought it was really important that they understand what MS is and what's going to happen."
A cousin was appointed chief researcher and put together a Powerpoint presentation to be delivered after a Sunday dinner. And then it was time for questions. Lots of question, says Halley. "I had 12 kids in my two bedroom apartment for about five days. We just talked and talked and I tried to answer as many of their questions as I possibly could."
Halley also credits her "family" at the Boston Water and Sewer Commission for helping her to adjust at work. When Halley had to take time off for a recent hospital stay, her colleagues donated their sick days to her.
For now, Halley says that she's holding her own. "You can get depressed but I just don't want to go there," says Halley.
Charlotte Killam says that it's that spirit of optimism and determination that make Halley such an inspiration to their coworkers. "I'm really proud to know her," says Ms. Killam.
Do you know a member who should be featured in the Spark?  Write to spark@seiu888.org.