The Massachusetts legislature is considering major changes to the state's retiree health care benefit—and it's essential that we make our voices heard on this key issue.The bill under consideration, HB 59, proposes drastic changes to benefits for future retirees. If passed, low-seniority employees who are within 2-3 years of retiring could have to work an additional 22 years to equal the benefits that are currently provided. Yep—you read that right...
Who'll be affected by these changes? All state employees, including those who work at UMass Lowell, the Lottery and the Soldiers Homes. That's why it's so important to let your legislators know that they need to oppose this bill.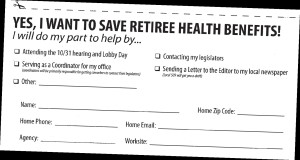 Here's what Local 888 members concerned about their future retiree healthcare can do to get involved: ▪ Contact your legislators Postcards to send to your legislators will be distributed soon. ▪ Attend the hearing on 10/31 Join hundreds of other state employees at this important hearing and lobby day at 10:00AM in Gardner Auditorium at the Statehouse. ▪ Organize your coworkers Help your colleagues understand that this is an issue that's of vital importance to them whether they've been working for three years or 30 years.