Fueled by support from union members and their families throughout Boston, Martin Walsh bested City Councilor John Connolly to become the first new Mayor-elect of Boston in almost 20 years.
Walsh's victory marks the first page of a new chapter for working families around the city. First as a laborer and union president, then as a State Representative and now as Mayor-elect of Boston, Walsh's continued commitment to fight for working families has time and again set him apart.
"I want you to know that I will always stand up for you. I've spent my career standing up for working families, and as your Mayor, you can count on me to be your voice in City Hall," Walsh said, following his victory.
Walsh's compassion and strong history of standing up the working class was affirmed by the thousands of union-affiliated volunteers and leaders who donated their time during to his campaign, including hundreds of SEIU members.
[caption id="attachment_4186" align="alignleft" width="364"]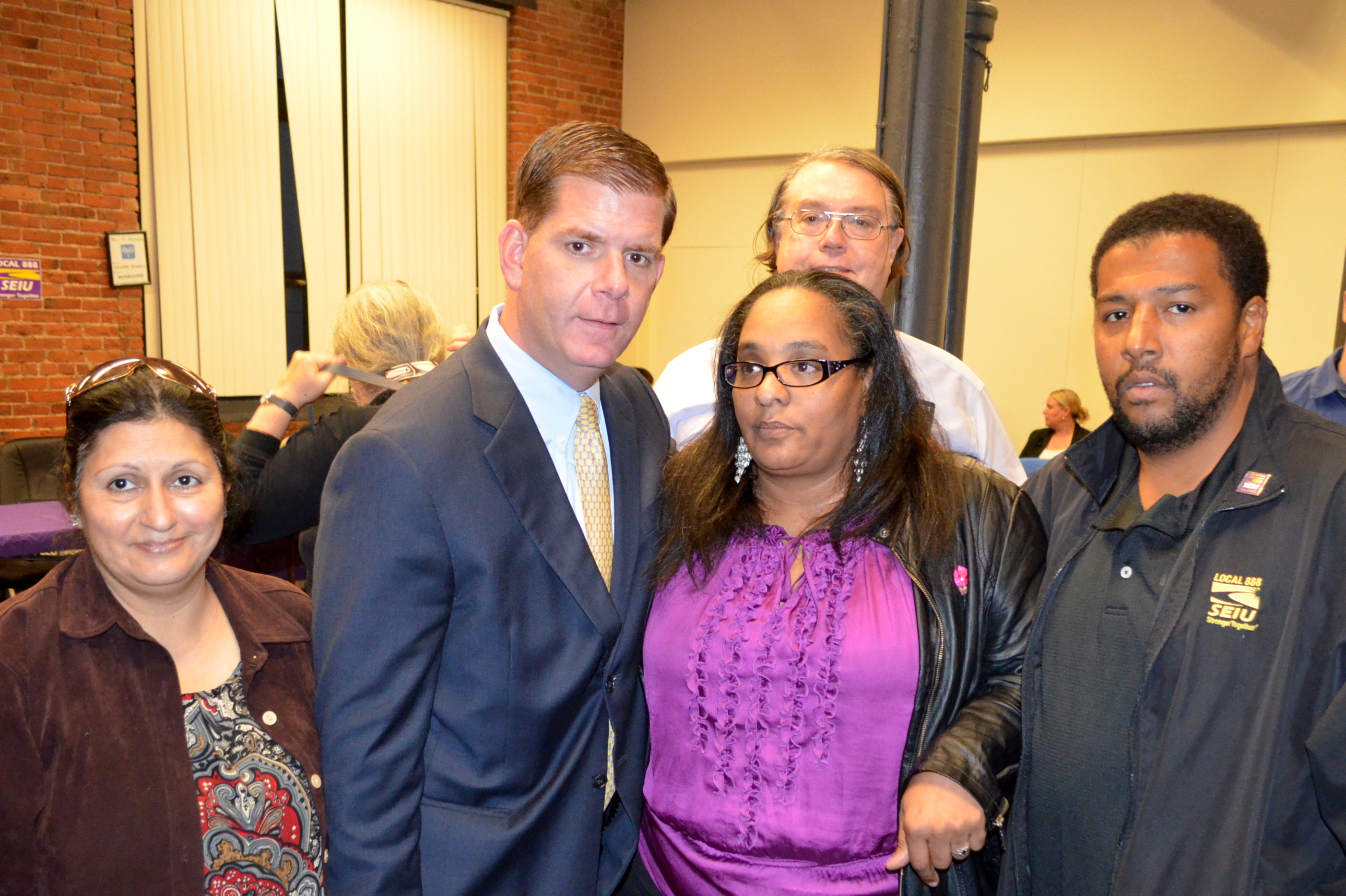 Marty Walsh with members after the Oct. 10 political forum at the SEIU Local 888 union hall[/caption]
Support for Walsh at SEIU Local 888 was evidenced by the strong enthusiasm from members and the union's Committee on Political Action at an October 10 forum that both candidates were invited to.
The COPA committee voted overwhelming to endorse Walsh, which should help give our members a stronger voice in the city's future.  Local 888 members and our team of member political organizers actively promoted Walsh's candidacy by canvassing in members neighborhoods through election day to help get out the vote.
"Public service workers know Marty Walsh was the candidate who has best served the needs of all of Boston's neighborhoods," said Local 888 President Mark DelloRusso. "Marty has promoted legislation to create jobs and more opportunities for women and minorities in Boston's workforce.  That's why we all rallied behind Walsh and his progressive, authentic vision for a stronger Boston."
[caption id="attachment_4273" align="alignright" width="332"]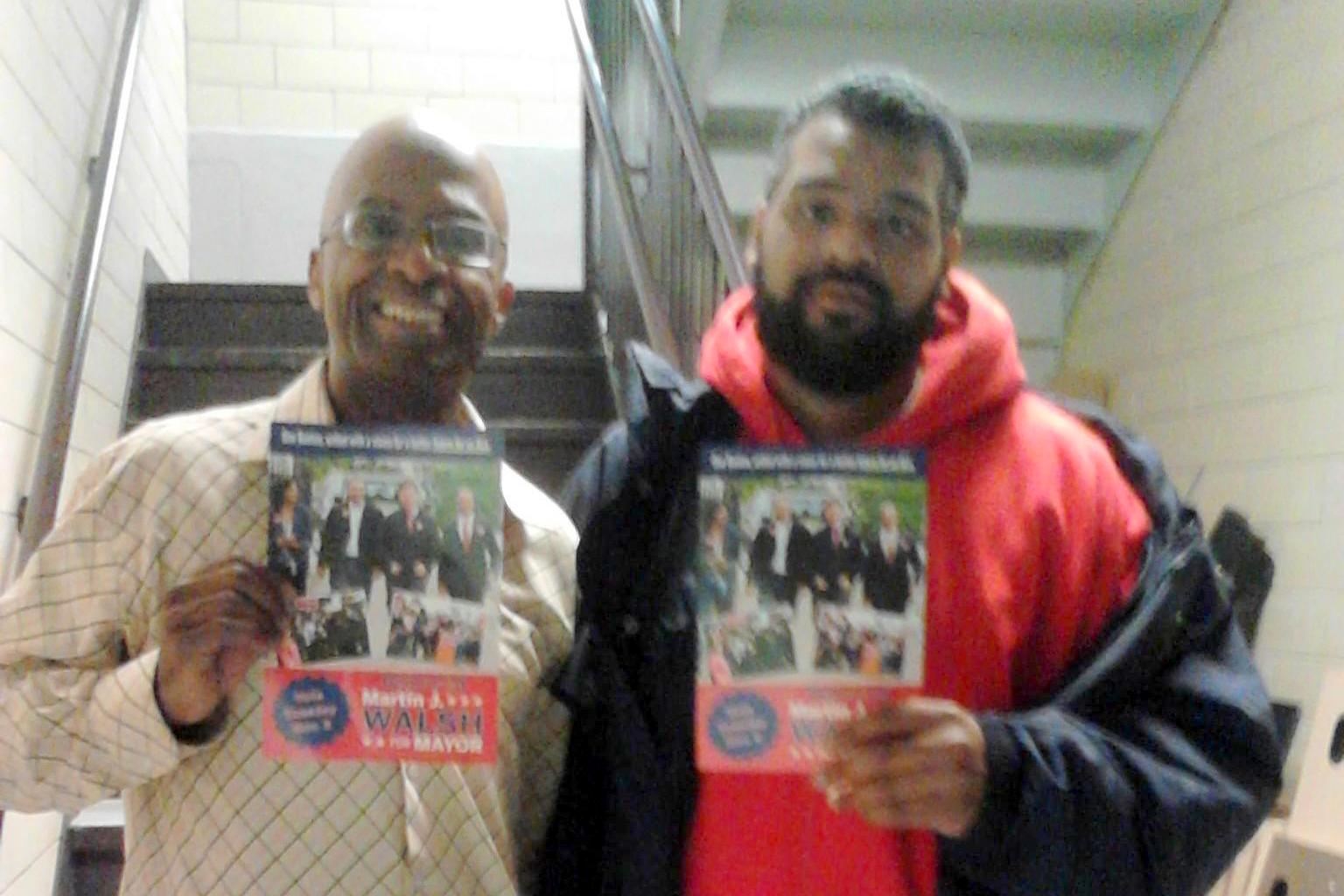 Anthony Meeks and Martin Andino both BCYF street workers campaigning for Walsh[/caption]
As Boston continues to prosper, members of SIEU Local 888 need to continue to stay involved and active to ensure that everyone has the same chance to succeed and share in the benefits of living in a world-class city.
Local 888 members were involved in many other municipal races as well.  In addition to the mayor's race, the COPA committee endorsed ten candidates for Boston City Council.  Outside of Boston, members endorsed another 16 candidates for city council in Cambridge, Brockton, Chelsea, Haverhill, Malden and Somerville.
The SEIU Local 888 endorsed candidates and their election outcomes is listed below:
Boston Elections
Marty Walsh, Mayor of Boston - Elected
At-Large City Council:
Stephen Murphy - Elected
Ayanna Pressley - Elected
Michelle Wu - Elected
Jack F Kelly III - Defeated
District 1: Salvatore LaMattina - Elected
District 2: Suzanne Lee - Defeated
District 6: Matt O'Malley - Elected
District 7: Tito Jackson - Elected
District 8: Josh Zakim - Elected
District 9: Mark Ciommo - Elected
[caption id="attachment_4272" align="alignright" width="253"]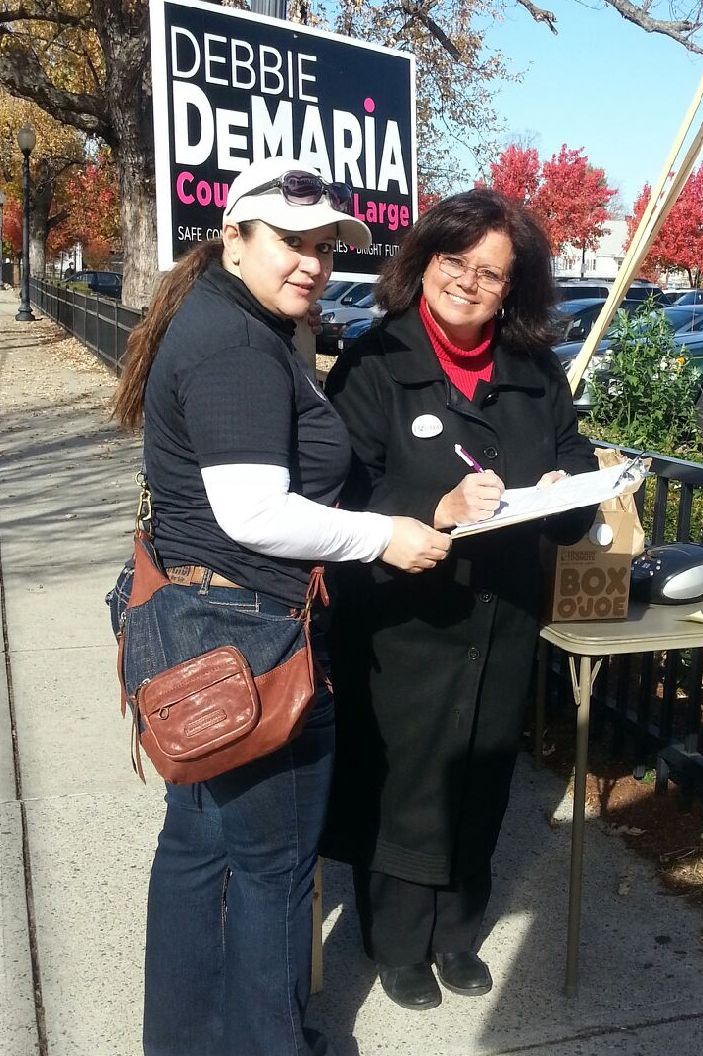 Local 888 organizer Christina Villafranca gathered signatures on election day for the Raise Up Massachusetts campaign in Malden. She's shown here with victorious Malden City Council candidate Debbie DeMaria.[/caption]
Brockton City Council At-Large City Council: Robert Sullivan - Elected Ward 7 Tim Sullivan - Defeated
Cambridge City Council
Denise Simmons - Elected
Kenneth Reeves - Elected
Dennis Benzan - Elected
Chelsea City Council
Calvin Brown - Elected
Haverhill Elections
At-Large City Council
Fred Simmons - Defeated
Malden Elections
At-Large City Council
Debbie DeMaria - Elected
Bill Coleman - Defeated
Somerville Elections
Alderman at-Large
Dennis Sullivan - Elected
Jack Connelly - Elected
Bill White - Elected
William Medeiros - Defeated
Board of Aldermen
Ward 1: Matt Mclaughlin - Elected
Ward 3: Bob McWaters - Elected
Ward 7: Joe Capuano - - Defeated
Although not formally endorsed by COPA, Local 888 member Tom Ciulla, a custodian in the Everett Schools, was re-elected to the Methuen City Council East District.