[caption id="attachment_4266" align="alignnone" width="415"]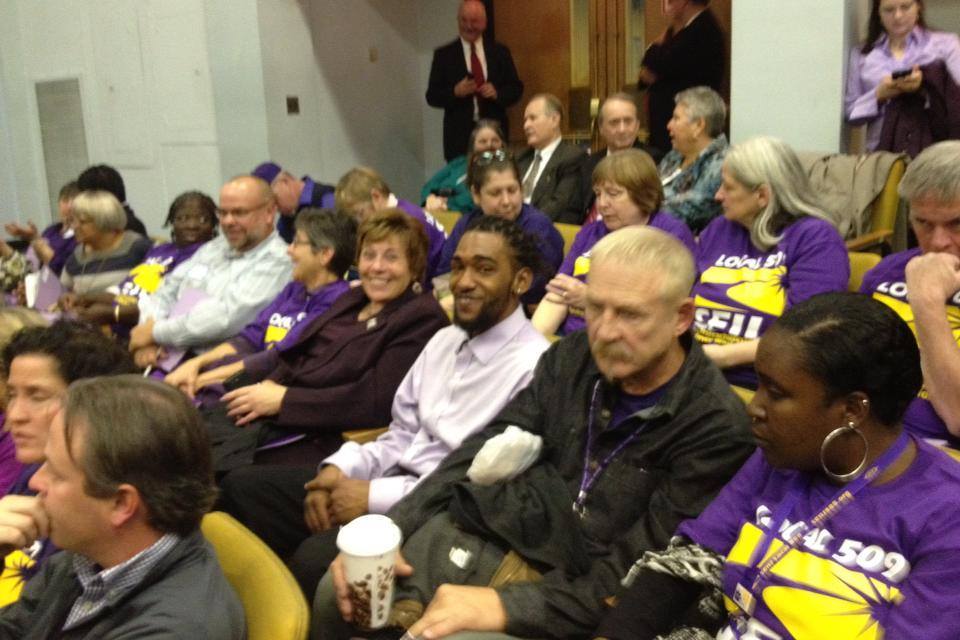 Local 888 and Local 509 members at an Oct. 31 hearing on the future of retiree health insurance.[/caption]
Hundreds of union members crowded into Gardner Auditorium on Oct. 31 for a hearing on Gov. Patrick's proposal (House Bill 59) to raise the age and years of service required to be eligible for health care coverage in retirement.  The hearing was before the Public Service Committee.
House Bill 59 is an attempt to address the very real problem of unfunded retiree health care liabilities which threaten the long-term stability of state and local government finances.  Most of the unions for state and municipal workers, including Local 888 have been very engaged with the Governor and the Legislature to work on the issue and be part of the solution.
The major challenge is to address the problems of long-term stability, affordability, security, and the availability of this benefit for retirees now and into the future.
Municipalities spent about $800 million on health care for retirees last year.  Retiree health care costs are projected grow to than $1 billion within five years and to nearly $1.5 billion in 10 years.  Both pension and retiree health care costs are growing faster than municipal revenue, complicated by Proposition 2½ which restricts the amount communities can levy in taxes.
Patrick's legislation proposes raising the number of years public employees work before they are eligible for retiree health benefits from 10 to 20 years. It would also increase the minimum eligibility age by five years for each employee group. For most employees, it would go to age 60, age 55 for specified hazardous duty employees and age 50 for public safety employees.
If approved by the Legislature, the changes would be applied to current employees, with exemptions for those close to retirement.
[caption id="attachment_4267" align="alignleft" width="423"]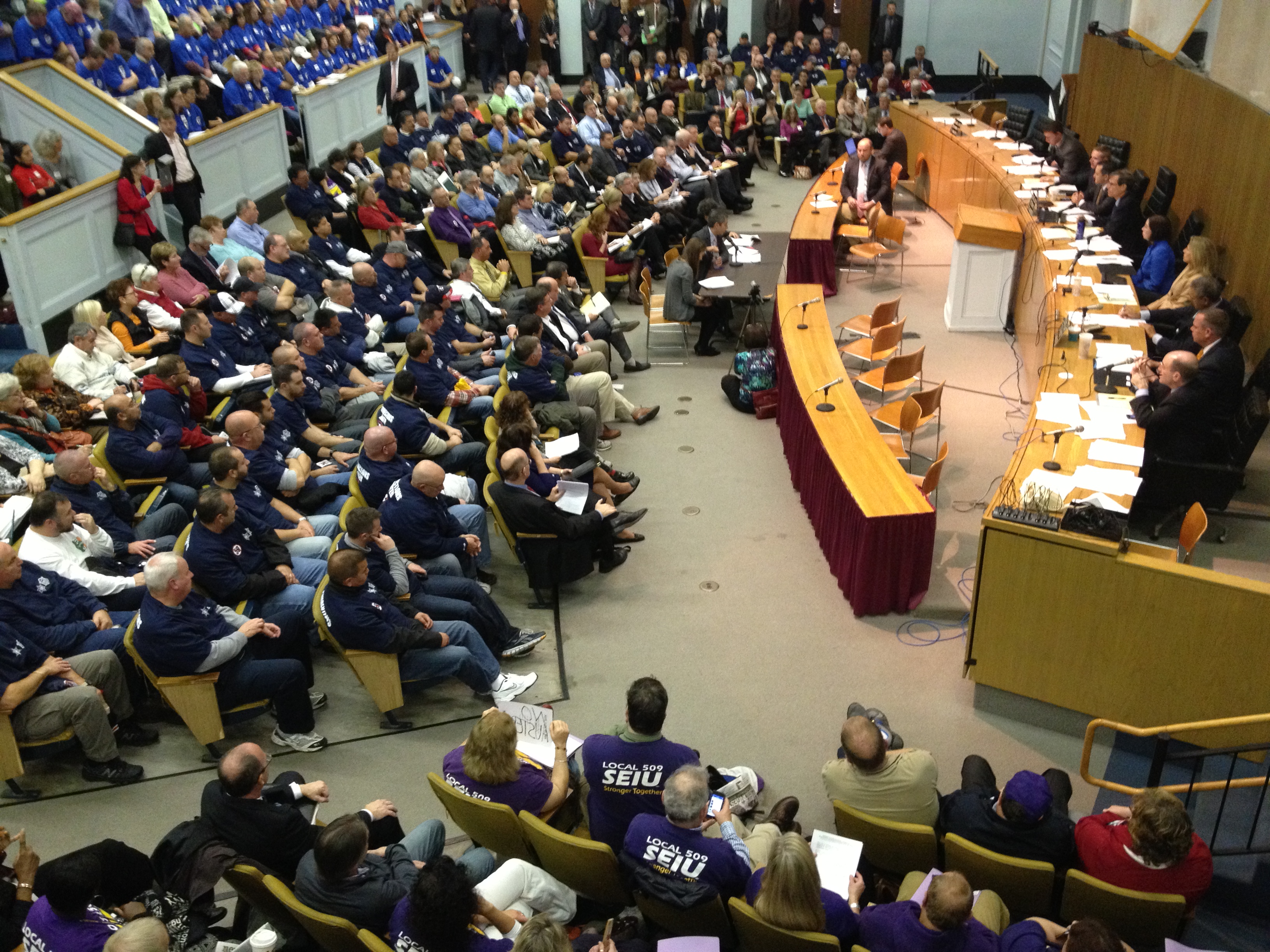 Union members packed Gardner Auditorium at the State House on Oct. 31.[/caption]
This bill has features that are good for municipal workers.  For example, it freezes retiree premium contribution rates at levels in effect last January for three years -- thus blocking cities and towns from going to 50/50 contributions.  And following the three-year moratorium, any municipality seeking to reduce its contributions must grandfather existing retirees at their current contribution rate.  All future surviving spouses, and current surviving spouses who are enrolled in a municipal health plan, will be entitled to a minimum 50 percent employer premium contribution.
"But make no mistake; the solution to retiree health care costs should not come exclusively off the backs of retirees on fixed incomes," Local 888 President DelloRusso said in his prepared testimony.  "As currently written, the bill penalizes workers who take a leave of absence for the birth of a child or the death of a loved one.  It also unfairly cuts equally across all incomes -- which means retirees who earned lower wages while they were employed are now going to pay disproportionately higher costs."
"Shifting a larger burden of retiree health insurance costs from the state to individuals does nothing to solve the problem of out-of-control health care costs," DelloRusso continued. "While the state is in a strong position to address the problem of rising costs, individual workers and their families are in no position to do so.  It's just plain wrong to ask future retirees to pay for all the savings -- without reforms or cost saving measures that similarly impact the insurance industry."
Gail Silva, who works for the IT Dept. in the Town of Westborough attended the statehouse hearing and was impressed, "Some of the committee members were very thoughtful and actually seemed to be interested in what people were saying," said Silva.  "I hope they don't decide to pass the cost on to future retirees.  Why wasn't government properly funding these retiree plans? And why are they talking about burdening us instead of challenging the outrageous costs of health care.  That was the elephant in the room."
For a copy of Mark DelloRusso's testimony contact Rand Wilson at rwilson@seiu888.org or call 617.241.3300.