[caption id="attachment_4489" align="alignleft" width="257"]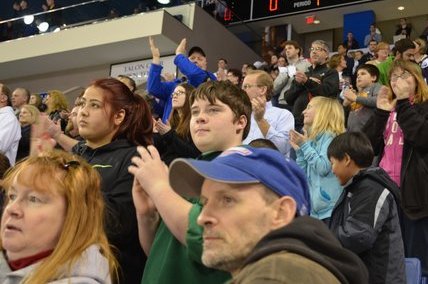 Local 888 members cheer the action on the ice. More than 250 area workers attended the event.[/caption]
Some 250 members of Local 888 and their families from across the Merrimack Valley turned out for the first ever Hockey Night at UMass Lowell, which saw the Riverhawks tying the University of Maine Black Bears in overtime.
Local 888 sponsored the game and hosted a family freeskate and a reception for members, in an effort to raise awareness about the union in the Merrimack Valley.
In addition to UMass Lowell, other Local 888 members work in the communities of Andover, Billerica, Dracut, Haverhill, Lawrence, Lowell and Tyngsboro.  With some 500 members, the professional staff at UMass Lowell is the largest bargaining unit within Local 888. Their contract expires on June 30. 2014.
[caption id="attachment_4490" align="alignleft" width="360"]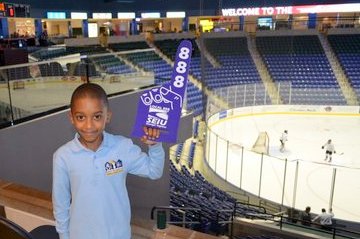 A young hockey fan gives Local 888 a thumbs up at our first-ever Hockey Night at UMass Lowell.[/caption]
[caption id="attachment_4493" align="alignleft" width="352"]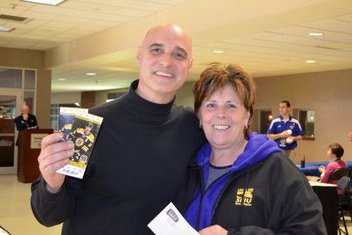 Local 888 Secretary-Treasurer Brenda Rodrigues with Andrew Alfano, a systems manager at UMass Lowell. Alfano is showing off the Bruins tickets he won at the recent Local 888 Hockey Night. Enjoy the game![/caption]