Local 888 Recording Secretary Tina Swift had coffee with Senator Elizabeth Warren at the Federal Building in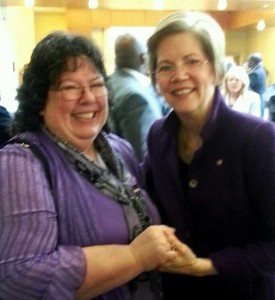 Springfield on January 22.  Sen. Warren was introduced by Springfield Mayor Domenic Sarno.  Many local politicians and community leaders were present.
Below is Tina Swift's report on what Sen. Warren said at the meeting:
1.  We must find a way to reduce student debt by lowering interest rates and refinancing.  We also must create new ways to forgive student loans if they participate in public service jobs.  She said it is not right to bail out corporations and send money overseas and expect our children to be in debt for the rest of their lives for their education.  She also noted that these former students can't afford to buy cars or houses, and this lack is putting a drag on the economy.
2.  We must fund medical and scientific research.  We have increasing diabetes, alzheimers, and autisim and we need more research to meet the challenges of these and other health issues.  This will put many people to work, not just in the health care industry.
3. We must prop up social security.  'Anyone who tells you that social security contributes to the deficit is just putting shiny objects in your view hoping you look the other way,' she continued.  She observed that many people count on social security alone for food and shelter and it's not enough.  The funds are o.k. right now, but could be cut drastically in a number of years if we don't do something now. Senator Warren called this a moral issue that we must deal with.
Wrapping up, the Senator said her job is to push -- push for these reforms and to push initiatives that the Senate has passed but the Republicans won't let come to a vote in the House.  As you can see from the photo, I was pleased as punch to meet the Senator!