The SEIU Local 888 Committee on Political Action and SEIU Massachusetts State Council will be holding a Governor's Election Forum. Come hear what the candidates have to say on the issues that matter most for working families.
Click here to RSVP for the Governor's Forum
[caption id="attachment_4596" align="alignright" width="300"]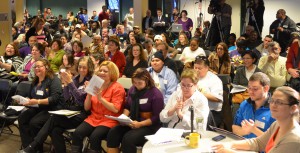 SEIU members packed a forum last spring to hear from then Senate candidates Ed Markey and Stephen Lynch. Events like this provide an opportunity for members to hear directly from candidates and express their views about the issues that matter to them.[/caption]
Join members of the Service Employees International Union (SEIU) from across the state to meet and evaluate the candidates for Governor.  This is an important election for the future of Massachusetts and the lives of working families.  LET YOUR VOICE BE HEARD!
Candidates attending: Joe Avellone (confirmed), Charlie Baker (invited), Don Berwick (confirmed), Martha Coakley (confirmed), Steve Grossman (confirmed), and Juliette Kayyem (confirmed).
SEIU Massachusetts Governor's Election Forum Saturday, March 15, 2014, 9:30 a.m. – Noon @ 1199SEIU Offices (in the Bayside Expo Office Center), 150 Mt. Vernon Street, Dorchester, MA
Sponsored by the SEIU State Council, 1199SEIU, SEIU 32BJ District 615, SEIU 509, SEIU 888, and the SEIU Committee of Interns and Residents (CIR)
Click here to RSVP for the Governor's Forum
This is a private event open only to members of SEIU. Light breakfast and box lunch will be served.
Click here to download the flier to post at your worksite and promote the event with your co-workers.
Please RSVP so we know to expect you or email Dan Hoffer, at dhoffer@seiu888.org or call 617 642 3588.
Bus transportation is available free of charge (RSVP required): Lawrence - bus leaves McDonalds at 50 Broadway at 8:30 AM. Worcester - van leaves Rock of Salvation church, 829 Main Street at 8:00 AM. Springfield - bus leaves Plantation Inn, 295 Burnett Rd, Chicopee at 7:30 AM. Southeast MA - bus leaves Exit 4 Park and Ride (RT 140) New Bedford at 7:30 AM / White's in Westport, 66 State Road at 8:00 AM / Brockton West Branch 540 Forest Ave at 8:30 AM.
Directions - From the West: Take the Mass Pike east to I-93 south(Southeast Expressway). Take Exit 15 off the Southeast Expressway, and turn left at the bottom of the ramp. Follow signs to the Bayside. From the North: Exit 15 off I-93 south (Southeast Expressway). Take a left at the bottom of the ramp onto Columbia Rd. Follow Columbia Rd. through the rotary, and onto William Day Boulevard, heading towards the beach. Drive past the State Police Station, which is on your right, and turn right at the blue sign for Bayside North Entrance Parking. From the South: Use Exit 14 off I-93 North (Southeast Expressway). Stay in the right hand lane and follow Morrisey Blvd. At the third set of lights, take a right onto Mt. Vernon Street. Follow the signs and take your third left into the Bayside Expo Main Entrance.  From Logan Airport: Sumner Tunnel to I-93 south (Southeast Expressway). Follow signs to Bayside Expo Center. Parking - Parking is available on the grounds of the Bayside Expo Center. Please be sure to follow signs for Bayside Parking for on-site parking!  Handicapped spaces are available.
Public Transportation: MBTA Red Line to JFK/UMass Station Stop. Plymouth/Kingston and Middleboro/Lakeville branches of Commuter Rail System to JFK/UMass Station Stop.