Members of Local 888 were joined by nearly 400 other members of SEIU from across Massachusetts at a forum with five candidates for governor in the election set for this November.
All of the announced candidates for governor were invited to participate, but only five Democrats agreed to attend the event.  The five candidates were: Joe Avellone, Don Berwick, Martha Coakley, Steve Grossman and Juliette Kayyem.
After opening statements, each of the candidates responded to questions from the membership.  Members asked questions on key issues, including immigrant justice, promoting the right to organize, ensuring quality health care for all, and helping to raise low-wage workers out of poverty.
While they answered, SEIU members ranked the candidates on score cards which will be factored into the decision about who, if anyone, the union representing approximately 95,000 people in Massachusetts will endorse.
[caption id="attachment_4633" align="alignleft" width="300"]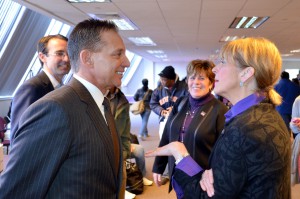 Mark DelloRusso and Brenda Rodrigues chat with Martha Coakley after the forum[/caption]
"We had an excellent process that members can use to decide whether to endorse a candidate for Governor, and if so, which candidate will receive that endorsement," said Mark DelloRusso, President of SEIU Local 888.  "Members completed scorecards expressing their views on the candidates.  Everything will be tallied and reviewed by the state council and that will be the driving factor in who SEIU endorses."
The entire forum was streamed live and can be viewed on masslive.com.  Comprehensive news coverage was in the Springfield Republican.
[caption id="attachment_4631" align="alignright" width="300"]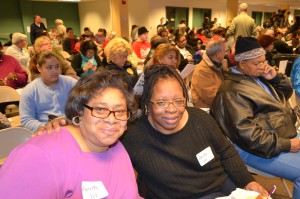 Annette Edler and Anita Christon from the City of Boston Dept. of Neighborhood Development[/caption]
"I feel like I got to really hear where the candidates stand on the issues that impact not just union members but all workers in Massachusetts," said Anita Christon from the City of Boston Dept. of Neighborhood Development (DND).  "Now I feel like I know who they are and where they stand."
"It was a really good forum," said Annette Edler, also from Boston's DND.  "I didn't know who was running or what they stood for.  This has helped me a great deal."
"Each candidate seemed to take a different approach to the issues," said Gail Silva who works for the Town of Westborough.  "I feel much better informed now and I'm really glad I came."
"While they are obviously important, union and work issues aren't the only issues that matter to me," said Lori Moran who works for the municipal government in Watertown.  "I'll make up my mind based on the whole picture."
[caption id="attachment_4632" align="alignleft" width="300"]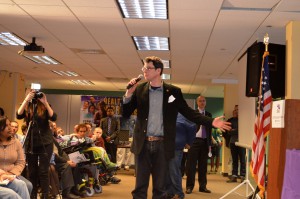 Ben Evans from the Committee on Public Counsel Services[/caption]
"It was so wonderful to be involved in this process," said Ben Evans a public defender with the Committee on Public Counsel Services in the Fall River District Court.  "You could feel the power of so many union people in the room.  I appreciate having the opportunity to personally ask the candidates a question."
Added Evans, "SEIU Local 888 is helping the public defenders to form a union and win new state legislation that would allow us to collectively bargain.  I fell very grateful for the support."
More photos from the event may be viewed here.
Attendance was open to all SEIU members and their immediate families. The forum was sponsored by the SEIU State Council, 1199SEIU, SEIU Local 32BJ District 615, SEIU Local 509, SEIU Local 888, and the SEIU Committee of Interns and Residents.  Nearly 90,000 members of SEIU in Massachusetts work in the fields of health care, home care, social work, property maintenance, security, janitorial, child care, and a broad range of public services to help keep our roadways, schools, airports, office buildings, and health care facilities safe, clean, and operational.