[caption id="attachment_4644" align="alignright" width="150"]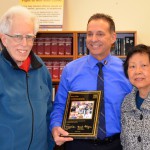 Greg King, Mark DelloRusso and Greg's partner Yupin.[/caption]
Local 888 held a special luncheon and appreciation for long time union member and labor activist Greg King, who was recently diagnosed with cancer.  Greg worked for the City of Boston for many years and has contributed many articles to the Local 888 "Spark."
The ceremony was held during a break in the Local 888 Executive Board meeting and was attended by many former coworkers from the City of Boston.
Pictures from the event may be viewed online here.
[caption id="attachment_4643" align="alignleft" width="150"]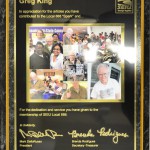 The plaque says, "Greg King: In appreciation for the articles you have contributed to the Local 888 "Spark" and for the dedication and service you have given to the membership of SEIU Local 888."[/caption]
Local 888 President Mark DelloRusso presented Greg with a special plaque of appreciation from Local 888.  "Greg has been an outstanding member and on behalf of everyone at Local 888, we thank him for his years of service," said DelloRusso.  "His dedication to the members of SEIU Local 888 and our predecessor Local 285 has been unparalleled."
Accompanied by his partner Yupin, Greg received many warm wishes and shared reminisces with his former coworkers of their many years of contract struggles, grievances and member advocacy.
"I want to thank all of you folks for being my friends and for standing up for working people for the years you've each done so," said King.  "Each individual person is worthy of respect and dignity by virtue of being a person and union member.  Every member has a right to make their viewpoints known without intimidation or fear.  While there are time limits, everyone should have the opportunity to speak and no one should be silenced until they have said what they wish to say.
"Every member should stand on their own two feet and fight back against oppression and foolishness alongside their sisters and brothers.  Acting alone is ineffective, but when we are joined together our voices are multiplied.
[caption id="attachment_4645" align="alignright" width="150"]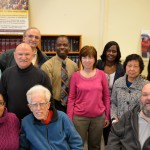 Some of the coworkers and friends who gathered to honor Greg King[/caption]
"When a member has approached me with a problem at work -- big or small -- if they're not already doing so, I have given them an ever-so-slight nudge toward standing on their own two feet and fighting for themselves.  Lots of people have no need of me to do that, they do it naturally.  But for those who needed that slight nudge, I have been so proud of them and happy to see them, in most cases, find their voice, stand up and fight for themselves.  Why?  Because I believe everyone should do that.  They should find the ability to fight for themselves within themselves and let it blossom forth.
"I do not like at all to see members led around by the nose by a union rep, letting everything be done for them.  Those members should, and they often do if encouraged, fight for themselves.  It builds their confidence in their own abilities and their example encourages others to do the same.
"This event was truly an honor for me.  It also honors the hard work of every union member and staffer here.  I applaud everyone for all that they do alongside their sisters and brothers.  However, staff should always remember that it is union members' dues which pay their salaries.  There would be no union without the members.  It is our union and we should have a vital say in running it.
King concluded, "I will soon pass from the scene happy to have played a role in many extraordinary working people's lives."