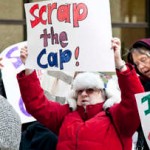 On April 17, most of America's wealthiest citizens will stop paying Social Security taxes. Once the payroll contribution cap of $117,000 is reached, millionaires and billionaires stop paying into the system, while the vast majority of Americans pay on all of their salary – all year long.
The American people know that Social Security benefits are earned through hard work no matter what their income bracket. These benefits provide financial stability for individuals, families, and communities during times of transition starting at retirement, the onset of a disability, or the loss of a spouse.
It is time for the 1% to pay the same rate as the rest of us. Click here to sign the petition urging Congress to lift the cap and increase Social Security benefits for all Americans!