BOSTON – June 18, 2014 – Today's House vote to increase the minimum wage also provided a boost to the safety of the state's workforce. The bill included a measure that will extend Occupational Safety and Health Administration (OSHA) protections to executive branch employees.  The measure will seek to stem the high human and financial toll of workplace injury, illness and death.
[caption id="attachment_4658" align="alignright" width="199"]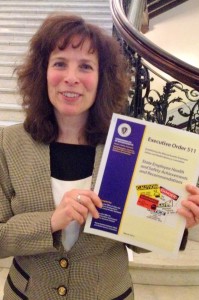 Marcy Goldstein-Gelb, executive director of the Massachusetts Coalition for Occupational Safety and Health pictured with a copy of the Advisory Committee's new report[/caption]
The Federal Occupational Safety and Health (OSH) Act of 1970 established federal workplace safety standards and covers all private employees but made it optional for states to extend these protections to their public employees. Twenty-six states opted to extend OSH protections to state employees, but not Massachusetts.
"I am pleased to see this long-overdue legislation to extend safety standards to employees of the Commonwealth move forward," said Senator Marc R. Pacheco (D-Taunton), the bill's lead sponsor. "Now state workers are another step closer to receiving the same protections as those who are working in the private sector—protections they have deserved for quite some time."
"This is a huge step forward for the Commonwealth," said Marcy Goldstein-Gelb, Executive Director of the workplace safety group, the Massachusetts Coalition for Occupational Safety & Health (MassCOSH). "By instituting health and safety measures that are known to prevent injury and death, we will protect the well-being of our state's employees and save the taxpayers costly workers compensation costs."
"We are grateful to MassCOSH, members of the Legislature, and all of the state employee unions for their hard work to pass this bill," said Mark DelloRusso, President of SEIU Local 888.   "Many Local 888 members will benefit from these new, stronger on-the-job safety and health protections."
Senator Dan Wolf, who co-chairs the Joint Committee on Labor and Workforce Development and State Representative Tom Conroy were early champions of the bill.
"Protecting the health and safety of our public employees has been a top priority for me," said Representative Conroy (D-Wayland).  "I applaud MassCOSH, our state's labor unions, and the advocacy groups who have joined together and have worked tirelessly to bring this important issue to light. The House-Senate compromise minimum wage legislation will improve the quality of life for state employees, and will reduce our state's injury and illness costs, saving millions of taxpayer dollars each year.  I am proud to have been a part of this collective effort and I look forward to Governor Patrick signing this important piece of legislation in the upcoming weeks."
"This is a victory for all of those who work for the Commonwealth—those who have gone without these basic protections in the workplace," said Senator Wolf (D-Harwich). "These employees will now be able to proudly stand with the rest of the Massachusetts workforce, assured by the fact that there are standards in place to keep them healthy and safe at work, while also reducing the costs of having separate regulations."
"State employees face just as many, and often more, on-the-job risks and dangers as those in the private sector," said MOSES president Joe Dorant. "This legislation is an essential step toward instituting safety measures that will prevent needless workplace injuries, illnesses and deaths. It is a tremendous opportunity to provide state workers the same protections that private employees enjoy."
In addition to pain and suffering, occupational injuries are costly. The Commonwealth spends over $31 million in direct workers compensation medical and wage costs and according to Liberty Mutual's Research Institute for Safety, employers save $4 to $6 for every dollar spent on a health and safety program.
MassCOSH, the Massachusetts Coalition for Occupational Safety and Health, is a non profit, 501(c)3, workplace safety education and advocacy organization.