The Malden City Council voted on Tuesday, June 24 to support Mayor Christenson's plan to provide an additional $2,226,293 to the School Dept. to keep all 28 custodians working at the Malden Schools.  The funding will also provide for hiring a new custodial supervisor to ensure improvement in school cleanliness.
[caption id="attachment_4915" align="alignright" width="300"]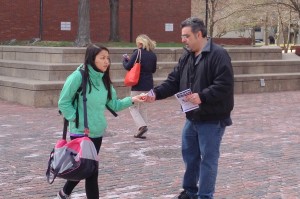 The Malden school dept. proposed outsourcing all of the custodian's jobs. Backed by their union, custodians like Eric Minervini (above right) reached out for community support and fought the outsourcing plan with support from the City Council.[/caption]
The mayor's plan came about after Councillor Neil Kinnon succeeded in winning majority support on the council for transferring the custodians from the School Dept. budget to the city budget.  In response, the mayor was adamant about keeping the custodians in the School Dept. budget and his support would be critical to winning the additional funding needed for 14 custodians and a new supervisor.
Before the vote, Kinnon pointed out that, "This $2.2 million is no guarantee to save the custodians' jobs.  By keeping their supervision and control in the School Dept. there is nothing that the Council can do to stop the schools past pattern of draining funds from the maintenance budget for other purposes and further privatizing this work.  We could be facing the same problem next year."
Councillor Steve Ultrino, as chair of the Finance Committee, sought a compromise with the mayor that would provide the additional funding -- but keep the custodians in the School Dept. budget.  His plan ultimately passed the City Council in a 6 to 5 vote.
"The most important objective was to stop the outsourcing and save local jobs," said Ultrino.  "I feel like we accomplished that with this budget."
"This is a step in the right direction for clean schools and keeping local jobs in Malden," said Rich Cutone, a school custodian for 27 years and union vice-president.  "I'm glad it's come to a conclusion and we're finally moving forward."
"This is a significant victory for the custodians and for the entire community," said Mark DelloRusso, president of SEIU Local 888.  "Now it's vital that we build on the mayor's plan by quickly negotiating a new contract with the School Dept. that will provide for better supervision and quality in Malden's schools."