Local 888 and the Massachusetts labor movement are standing with and supporting Market Basket workers.  Local 888 Communications & Policy director Rand Wilson was interviewed on WGBH's Greater Boston news program about the dispute at Market Basket and about the final settlement.
Wilson also had a letter about Market Basket printed in the Boston Globe.
Local 888 President Mark DelloRusso was also interviewed for a WGBH radio story on Market Basket.
[caption id="attachment_5048" align="alignright" width="300"]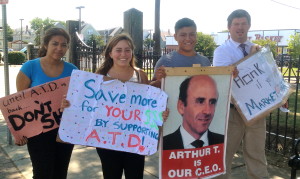 Somerville Market Basket workers picketing on Sunday Aug. 10, 2014. These part timers received layoff notices on Monday.[/caption]
Somerville Police Dispatcher and Local 888 chapter chair Terri Maderios was part of a letter from the Somerville Labor Coalition in support of the Market Basket workers.
Visit Jobs with Justice and UFCW Local 1445 to learn more about supporting the workers at Market Basket.  Take action to support the workers here.
[caption id="attachment_5050" align="alignright" width="150"]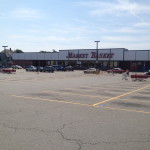 Usually this parking lot is jammed to capacity on a Sunday![/caption]
[caption id="attachment_5049" align="alignleft" width="150"]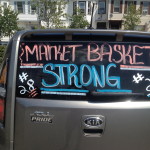 Sign says it all![/caption]