After plenty of last minute negotiations, a settlement of the Market Basket dispute was finally reached, bringing to a close one of the most dramatic and inspiring labor struggles in the United States in many a year.  The settlement was not immediately about wages or benefits or job security language. These employees don't even have a union! The settlement was about who would be their CEO. In a highly unusual management-led action, they paralyzed the company's 71 stores and promoted a devastating consumer boycott to get previously fired CEO Arthur T. Demoulas back.   And they won!
[caption id="attachment_5116" align="alignright" width="199"]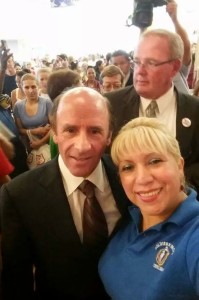 Local 888 member Carolina Romero, who works at the Chelsea Soldiers Home, took a "selfie" with Arthur T. celebrating Labor Day at the Chelsea Market Basket. She is an active member of the Local 888 Latino Caucus.[/caption]
Most of the 25,000 workers have already returned to work. In fact, during the dispute, many of the checkers and in-store personnel worked, converting their stores and parking lots into protest platforms where the few remaining customers were engaged in intense discussions about the dispute.  Where once the walls of a store were adorned with promotional ads, now they were decked-out with signs extolling the virtues of "Arthur T." and their desire to maintain his business model over his cousin Arthur S.
The strike was a strategic one by a combination of key workers in trucking and warehousing and top and middle managers whose industrial actions prevented any perishables from reaching the stores. Market Basket became nothing but a big dry goods chain.
Threats of firing and numerous "drop dead" days for employees to return to work came and went, virtually ignored by the workforce that was out. The power of a united and strategic workforce acting forcefully with broad consumer support rocked the whole of Eastern Massachusetts and its 30 stores in New Hampshire and Maine.
Following this monumental struggle, Market Basket and its workers will never be the same.  To reach a settlement, Arthur T. enlisted the notorious private equity firm, Blackstone Group to buy one third of the company.  As a result, the Market Basket culture and its manager's paternalistic practices may significantly change.  Meanwhile, Market Basket's workers expectations have never been higher and the sense of their power – even without the managers' support – can't be denied.
The vast majority of workers are part-time and low paid.  The UFCW is actively reaching out to enlist support.  Stay tuned because there is undoubtedly much more to come!
A longer version of this article first appeared on the Stansbury Forum.  Read an earlier posting about Local 888 support for the Market Basket workers here.