Registry of Deeds members unanimously ratify new contract
[caption id="attachment_5097" align="alignright" width="300"]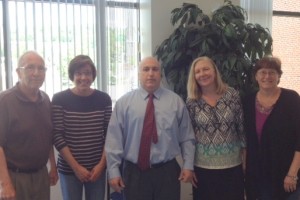 Pictured above are Gerald Fleming, Labor Liaison for the Sec. of State, Registry of Deeds SEIU bargaining team member Marcia Boudreau, Sec. of State Atty Michael Pagones, Sec. of State General Council Laurie Flynn and Registry of Deeds SEIU bargaining team member Donna Regan.[/caption]
Congratulations to the Fitchburg Registry of Deeds bargaining team for negotiating a contract that members unanimously ratified. The agreement includes a nine percent raise over three years, additional monies into the dental plan and an attendance policy related to inclement weather. Members are looking forward to upcoming Labor/ Management meetings within the next few months.
New Contract for Baypath Custodians
Custodians at the Bay Path Regional Vocational Technical High School ratified a new contract on July 15, 2014. Highlights of the new agreement include language protecting against layoffs, cost of living increases of 2% each year of the three year contract, an increase in vacation to five weeks after 17 years, and shift differential eligibility for part-time employees who fill in for full time employees for two weeks or more.