Kim Sawyer and Rossmary Marquez, summer interns from the National Occupational Health Internship Program (OHIP), worked with SEIU Local 888 over the summer to study the health and safety conditions of DPW workers in Massachusetts.  Their work helped Local 888 develop member education and training materials for members.
[caption id="attachment_5113" align="alignright" width="300"]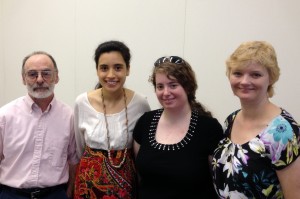 From left to right: MassCOSH staffer Rick Rabin, Local 888 summer interns Rossmary Marquez and Kim Sawyer and Local 888's Lisa Field.[/caption]
Municipal workers are about 40% more likely to sustain an injury or illness on the job than private workers. An average of 28 municipal workers are seriously injured each week in Massachusetts.  Municipal workers are not covered by the recent extension of federal OSHA laws to some state employees.
Marquez and Sawyer surveyed six DPW departments on hazards, injuries, and health outcomes.  They found many commonalities between different DPW units.  They organized their data and interviews to write up stories for future efforts to improve working conditions.  Below is a summary of their findings:
Common Health Hazards and Problems Back pain/injury Exposure to sun and extreme temps Headaches Tiredness Joint problems/pain
Common Themes Culture of unsafe practices Town management issues
Major Challenges Unable to visit worksites Little time to talk to units as a group Pushback from some managers Concern/lack of interest from some workers
Accomplishments 24 worker surveys completed in Orange, Westborough, Shrewsbury and Marlborough. Workers had an outlet for their concerns. New health & safety hazards sheet and final report.
Recommendations Continue to survey more DPW members. Build relationships with union members. More 1:1 time with workers.
Acknowledgements SEIU Local 888 staff: Lisa Field, Neal O'Brian, Bill Storella MassCOSH staff: Rick Rabin, Marcy Gelb and Craig Slatin (Site Coordinator) Local 888 DPW members, AOEC/OHIP, NIOSH
If you are interested in helping to improve conditions where you work or would like a copy of the OHIP interns' report, contact Lisa Field at lfield@seiu888.org.