Local 888 was an active member in Raise Up Massachusetts, a coalition of more than 100 community organizations, religious groups, and labor unions, which organized a grassroots campaign to win earned sick time for hundreds of thousands of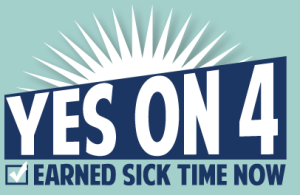 Massachusetts families.
"No one should have to choose between the job they need and the family they love," said Mark DelloRusso.  "With passage of earned sick time, no parent in Massachusetts will be forced to choose between going to work to put food on the table and staying home to take care of a sick child.  No worker will risk losing their job because they need to see a doctor."
This vote shows that the people of Massachusetts fundamentally believe that the ability to care and provide for themselves and family members is a right, not a privilege. Earned sick time will help small businesses succeed by making employees healthier and more productive, and will keep money in the hands of consumers who spend it in their neighborhoods, helping grow our local economies. For the almost one million workers in Massachusetts who today can't take a single day of paid sick time, this vote was a major victory.
When it takes effect on July 1, 2015, Question 4 will guarantee every worker in Massachusetts access to the benefit of earned sick time, and prohibit employer retaliation against workers who take time off due to illness. At companies with 10 or fewer employees, workers will earn up to 40 hours of unpaid sick time to visit the doctor or take care of a sick family member. At companies with 11 or more employees, workers will earn up to 40 hours of paid sick time.
In June, the Legislature passed and Governor Patrick signed legislation giving Massachusetts the highest minimum wage in the country. Raise Up Massachusetts then led the campaign to ensure access to earned sick time for all workers in the Commonwealth by passing Question 4.